Looking for a smart pill organizer that will remind you when it's time to take your medications?  Check out the iRemember Talking Pill Organizer.
The iRemember is a "smart pill organizer as it will remind you when it is time to take your medicines and it keeps track of when you last opened your weekly pill holder."  Press the status button on top of the cap and the iRemember will flash green while stating the last time the container was opened.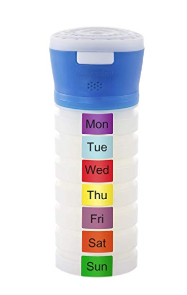 The iRemember works via Bluetooth and can be set up to send notifications to an Android (4.3 and up) smartphone whenever you or a family member forgets to take pills.  No smartphone?  No problem!  A smartphone is not required for operation of this pill organizer.
Features of the iRemember Talking Pill Organizer:
7 three compartment daily pill holders made from BPA free high-quality food grade silicone and polypropylene
Comes with stickers for marking the pill holders for day of the week and/or AM and PM
Voice Menu
Ability to set repeating timer on cap (24 hours, 12 hours, or 6 hours)
Use Status Button on top of cap to avoid underdose or overdose
Battery: built-in 700 mAh Lithium polymer battery

Micro USB for charging (3+ hours every 7 days)

Dimensions:

5.5 inches high
2.2 inches wide
0.25 pounds

View instructions here
Click here to learn more!