Looking for a keyboard for an individual with low vision?  Check out the BigBlu VisionBoard from Ablenet!  The BigBlu VisionBoard features large white keys with bold black lettering.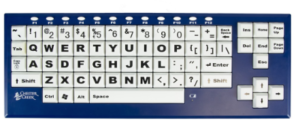 The keys measure 1 in (or 2.5 cm) and are nearly 250% larger than the print on standard keyboards.  The white keys with bold lettering "make it easy to see, and helps improve readability and reduce eyestrain."
Features of BigBlu VisionBoard:
Works via Bluetooth connection on Windows XP or newer as well as Chromebook

"This keyboard was not tested for compatibility with MacOS, iOS, or Android, but may be compatible with some devices running these operating systems via a Bluetooth connection"

Battery life: 90+ days
Includes 2-AAA batteries
Battery indicator light replaces CAPS Lock light
Need a keyguard?  The Chester Creek Keyguard with Function Keys is compatible with this keyboard!
Click here to learn more.