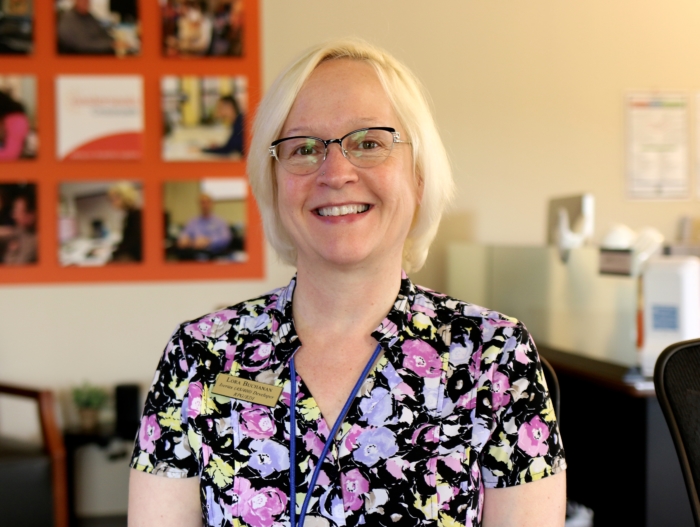 Lora was born in Lebanon, Indiana and raised in Indianapolis. She was raised by a single-mom and was one of four kids. Lora went to Washington township schools in Indianapolis, but left high school when she was 16-years-old. Two years later, she had her first of two children and she then got her GED. One day when she was riding the Metro bus system, she saw a sign offering training for a free typing and word processing class. She had always wanted to get into the computer field so she took this free evening course at Washington High School. The bus was her only mode of transportation at that time and she was lucky enough to have a lady in class take her home every night when classes ended because the bus system did not run that late. The word processing course was a 16-week course and she was the only person in the class to pass it. In the course, they trained her on IBM and NCR processing and office skills such as how to formulate a letter and business documents.
After completing the course, Lora then obtained a job in an insurance office typing up insurance policies. It was there that she realized that there were so many more opportunities in working with computers. When she realized how much more there was and that she was interested in that career path, she went to a local college to inquire about another certificate. She said, "No one in my family had ever been to college so I never even thought about getting a degree until the admissions counselor talked to me about it."
After speaking with the admissions counselor, she decided to go for a degree and graduated with an associates degree in computer programming. She also graduated cum laude, which is an honor given only to those with a high grade point average. Lora said, "The year I graduated from college my daughter graduated from kindergarten. I was proud of the accomplishment and to celebrate we had our pictures taken at Olan Mills portrait studio. Back then that was considered a very elite place to have your pictures taken and was a splurge for me."
After graduating, Lora got her first IT (Information Technology) job at the Indianapolis Symphony Orchestra. Lora told me she loved that job and had the best boss she has ever had. It was there that her boss taught her about personal computers. She ended up leaving the symphony to get a better paying job and because she wanted to work on the AS400 mid range computers. She said, "I thought going into the computer field would be great job security and then I found myself laid off from different companies every 3-4 years. When a company starts to lose money, they tend to let their IT people go first."
The last four years she was employed she worked for a company called Deflecto based in Indianapolis. They originally made air deflectors and then got into office products and dryer vents. She said, "I really loved my job there. I enjoyed the work even though I was very busy. I really could have used one or two people to support the workload I had."
She was still working at Deflecto when 2-years ago she had a stroke due to a brain clot. She said, "I was at home and got up at 1am to use the restroom and I noticed that the covers on my bed seemed really heavy and I was too exhausted to get up. I tried to take a few steps but had no energy and I laid on the floor. I tried to get up again and all I could do was crawl back into bed. I would sleep several hours and then wake up and knew something wasn't right. I knew I needed someone to take a look at me, but I was too exhausted to do anything. I finally called a friend and he talked me into calling my neighbor who took me to the hospital. By the time I got to the hospital I said to my neighbor, "I think I had a stroke."
She had in fact had a stroke and was diagnosed with aphasia. She said, "Luckily I have a mild form of it, but I have struggled with several things. " Aphasia is a condition that happens after a stroke or head injury and it affects a person's ability to express and understand written and spoken language.
Lora spent 9 days in the hospital and then began therapy. Lora had to work on regaining her speech. She said, "I struggle with my speech, reading, and fine motor skills with my right hand. It is difficult to write, put on makeup, or handle small things. When people talk too fast, I can't keep up with them. I had to take speech therapy to relearn words and learn how to speak again. I was very motivated to get better and back to work as soon as possible so I took as much speech therapy as possible. I knew there was a window of time where you have the most opportunity to regain your speech and I wanted to make the most of it so I went to several therapists since each therapist only schedules 2 days a week to work with you."
Lora returned to work 7-weeks after her stroke. She said, "Looking back now I realize that it was too soon to return, but I wanted to get back to work and really had no advocate for myself. My daughter was a huge help, but she lives out of state. I worked at home for about a month, but my employer wanted me back in the office. So I went back." Lora found many things challenging once she returned to work and found ways to accommodate her needs. She would put her phone on do not disturb so she could return calls at her pace. Due to the stroke, Lora is often exhausted. To accommodate her needs she brought an air mattress into her office and every day at lunch would take a nap. This would allow her to get rested to be able to be productive the rest of the day.
Lora told me that she has learned to deal with her fatigue. She dims the lighting and rests when she needs to. She said speech is still an effort, but tells me that she is getting better. She said, "I initially forgot words for everything. I had to ask people what something was, but then I would remember it once they told me. Spelling is also really tough and I used to be fantastic at spelling and grammar. My therapist taught me how to use Siri on my iPhone and now I use it all the time. When I don't know how to spell a word, I speak it to Siri and then once the word comes up I can relearn how to spell it. I'm lucky that once I relearn it then I am fine."
Lora had speech therapy for a year and a half and occupation therapy for four months to work on her grip and fine motor skills in her right hand. When she noticed that she was dragging her right leg when she walked she then had physical therapy to work on her gait.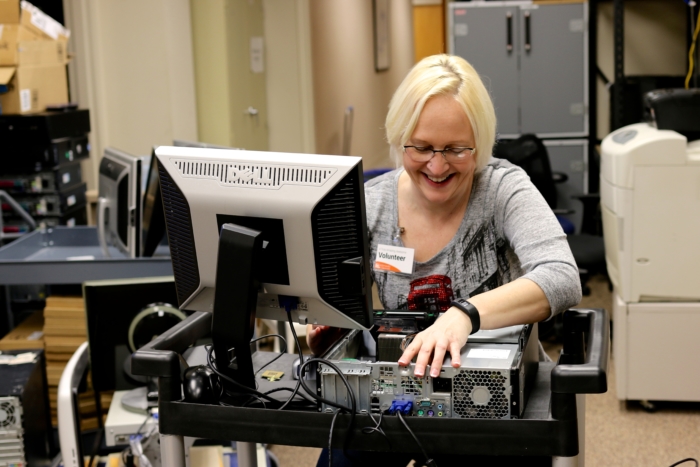 In September, Lora was laid off her job at Deflecto. She has been through many layoffs and knows that you can easily get depressed when looking for work. During this time, Lora joined a support group at Easterseals Crossroads and learned about our equipment reutilization program and inquired about volunteer opportunities. She said, "When you think outside of your own circumstances and help someone else it can help you not become depressed about your problems."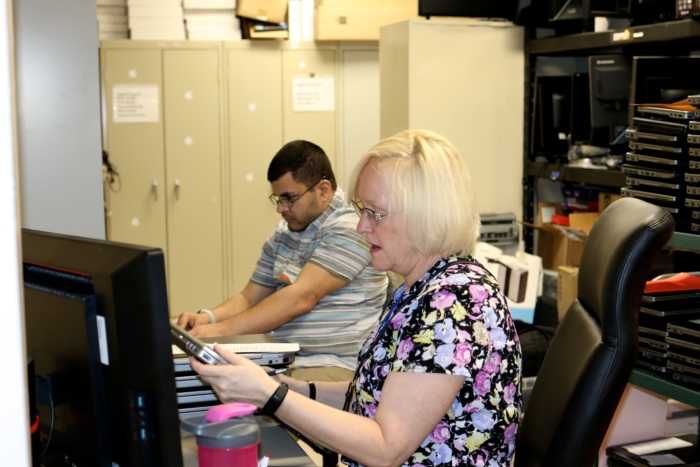 With Lora's IT background, she was a perfect fit to volunteer in our equipment reutilization program. In the equipment reutilization program, we accept donated CCTV's, video magnifiers, and other assistive technology devices. These items are then sanitized, repaired and given to individuals with disabilities in Indiana who have no other means of obtaining one at no charge.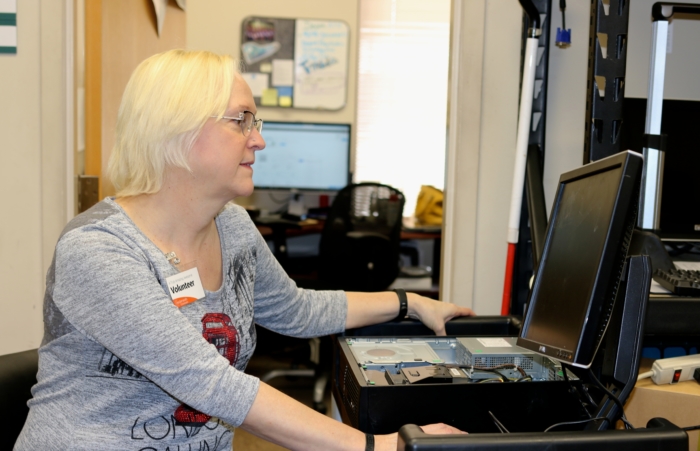 She said, "Once I learned about the Depot, I decided that I would like to be a part of that and began volunteering in October. I also received a laptop from the depot that I can now use for my job search at home. They also provided me with an iPad and put several memory and math games on it so I can sharpen my brain. I volunteer 1-day a week and then spend the rest of my time job hunting. I have had several phone interviews, a mock interview, and one in-person interview. They have been great experiences and they have helped me to tighten up my resume."
Lora said, "I'm learning all about the different technologies that can increase my independence. I borrow things for free for 30 days from the assistive technology lending library here. I was able to borrow an iPad with different note-taking apps to try since I have difficulty writing and have learned to use my iPhone a lot. I use Siri and the calendar on my phone every day. She said, there is so much technology out there to increase someone's independence and this is the best place to learn about it and to be able to get hands-on experience with the technology. To me it's a win-win. I am able to learn more about technology that can help me all while working on computers that will help someone else in need."