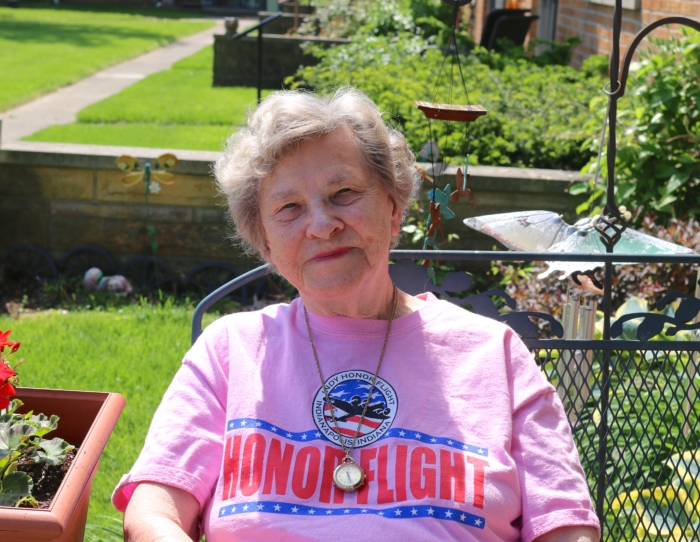 I set out to meet Mildred who needed a desktop CCTV due to her vision loss and received a donated one from our equipment reutilization program. I wanted to talk to her about how she learned about our program and how she was beginning to incorporate assistive technology in her life as her eyesight has been declining.
It was a beautiful day when I visited Mildred at her apartment. When I pulled up she was sitting outside on the porch enjoying the day. She invited me in to talk a little about her life and I learned that she was born in 1928. Mildred told me that it was the same year that Mickey Mouse was born and when she and Mickey turned 50 Walt Disney World gave everyone who was born that year free admission passes and she went to Florida and visited the park for 3 days.
Mildred told me she has known of different Easterseals agencies all her life. Her earliest memory is seeing an Easterseals agency that helped babies who had polio or needed iron lung treatments, which is a ventilator that used to be used to help someone breath on their own. Her family was also a benefactor of an Easterseals agency when the gave her family clothes and Christmas presents when her mom was widowed and there was no life insurance and social security did not exist in those days.
Mildred was one of 7 kids and her mom was a widow during the great depression. Her family lived on the south side of Indianapolis and after graduating high school Mildred worked several factory jobs and in a bakery. Mildred was working in a factory when she met her husband right after WWII.
Mildred's husband served in the Navy during the war and after they married they had 5 children. Her husband worked as a milkman and did not earn very much money. When their daughter was old enough to babysit the younger siblings, Mildred started working to help bring in money to support the family.
Mildred got a job at the Naval Avionic Center in Indianapolis in 1968. The Naval Avionics Facility produced top-secret parts for the United States Air Force and Mildred was the very first woman journeyman electroplater in Indiana. It was a great accomplishment to get this job as these jobs had previously only been held my men. Electroplaters are skilled workers who apply a thin layer of metal on the surface of another metal. At this particular factory, they were working on parts for Tomahawk cruise missiles for the government.
Mildred was even featured in a book written by Judy H. Singleton called Indiana's Trailblazing Women-2000, which is a book highlighting Indiana "women who were the first to break gender barriers."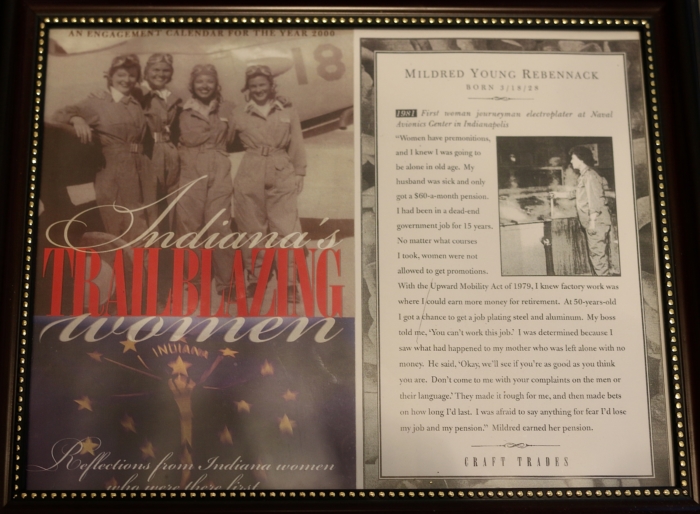 Mildred's husband passed away in 1985 and she continued to work until 1990 when she retired from the Naval Avionics after working there for 22 years. She had hoped to work there for 25 years, but her sister was ill and she wanted to be with her as much as she could where she resided in Las Vegas.
About 10 years ago, Mildred went to the doctor's office for a routine eye visit and he wanted her to see a specialist. The specialist found that she had fluid behind her eyes. This fluid buildup caused distortion in her eyes. Her vision has continually declined since then and she now has no vision in her left eye and her right eye is very blurry.
To stay active after retiring, Mildred got very interested in her family's genealogy and with the help of her sister spent 15 years researching both sides of their family. Mildred's dad passed away when she was young and she didn't know much about him and wanted to know more about him and his family. Mildred traced their family history back to the 1753 when they came to America on a ship. During her research, she learned that she was related to Harry S. Truman.  Once they got all of their information together, they took their binders of research to the Allen County Public Library and they created a hard cover book for her. The library will do this free of charge if someone is willing to allow the library to also have a copy and keep that copy in their family history section. Mildred then sent a copy of this book to the Harry S. Truman Library & Museum and after reviewing the book they inducted the family genealogy into his library.
Mildred also stayed very active in a local senior center that has now closed. They had many classes to take such as tap dancing and exercise classes. She participated in an old-time radio show that was broadcast on PBS. They would go on excursions such fishing trips and bus trips even going to visit NYC with the group. She was very disappointed when they closed their doors.
Mildred said that doing the genealogy research and keeping active at the senior center kept her going after retirement. She said, "I've always had a curious mind and need to keep it busy. It makes me mad that my eyes are going, because I don't want to give up. I want to continue to learn and I can't read anymore."
She was frustrated about not being able to read her mail or write due to her vision. She has always been very independent and wants to continue to be so. To find what resources were available to her to increase her independence she contacted the American Federation for the Blind and they told her to contact Easterseals Crossroads to find out what services we offer.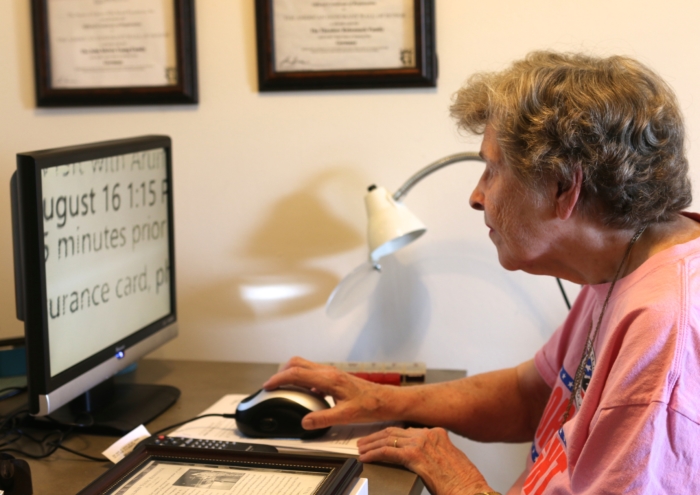 When she contacted our Equipment Loan Specialist, Justin Amber, she told him that she was not able to read her mail or write. He told her that our Equipment Reutilization program had just received a donated CCTV and he could bring it out to her to see if it would be helpful to her. The INDATA Project operates an Equipment Reutilization program (also known as "The Depot") in which we receive donated computers, CCTV's, and other assistive technologies. These items are sanitized, repaired and given to individuals with disabilities in Indiana for free. Justin delivered the desktop CCTV to her and she was very excited to be able to use it to read her mail. She said, "Justin was so nice and patient in showing me how to use the equipment and it works great for small reading and writing tasks.
When speaking with Mildred during the interview, she expressed her difficulty in seeing things when she is on the go such as menus at a restaurant. I told her about the handheld digital CCTV's and that she could borrow from our assistive technology loan library for free for 30 days. Justin will soon be returning to show her some of the different handheld magnifiers that she can borrow so she can determine if it would be helpful to her in situations where she was on the go. She is currently using a basic handheld magnifier. The digital magnifiers have a light and can magnify print to 20x it's size and also offers different contrast options that can make print easier to read for some individuals.
Mildred said she was thrilled to learn about all of the services that the INDATA Project offers and will be utilizing the library to determine what other types of technology would increase her independence. She is currently living in a senior center, but does not have assisted living and would like to live on her own as long as possible. She does as many of the activities as the center provides to keep her active and her mind sharp. All the residents just preformed a musical called High School Musical and she is the director of the glee club that meets weekly to sing songs. After she retired she learned to play the harmonica and she has always loved to sing and yodel.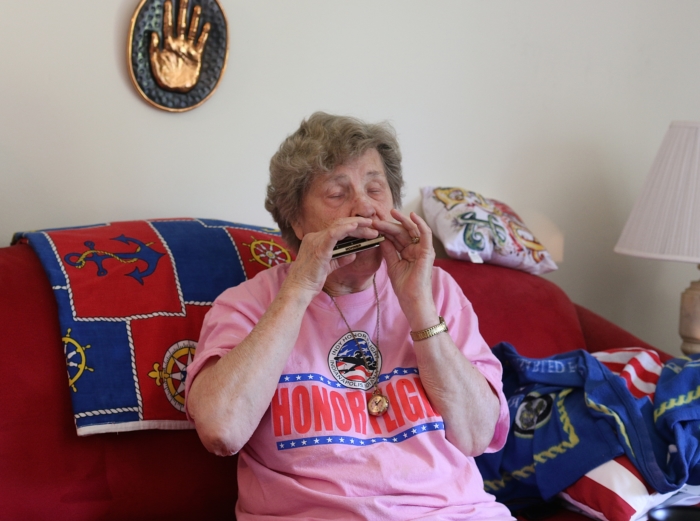 Mildred played a few songs for me on her harmonica and we listed to a song she had written for her brother during the war. I really enjoyed my visit with Mildred. She is a very sharp and warm person and I'm excited for her to continue learning about all of the technology that is available to her through our program so she can continue to live independently and increase her independence.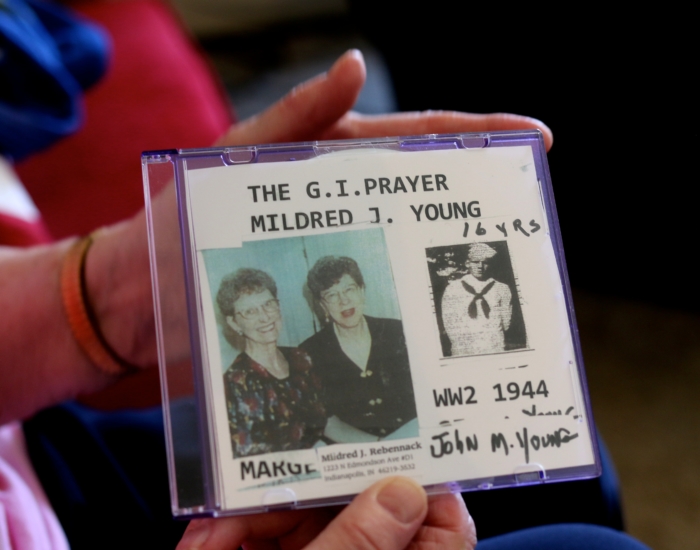 Mildred was so happy to have received the donated desktop CCTV. She wrote a post on her Facebook account where she said, "…. Yesterday Justin came to my house and brought 2 items donated from former users. A 14-inch screen and a mouse to make the words as large as I wish. Thanks to the donors and Easterseals." Her friend, Paul Hilgenberg, then replied, "Easterseals is fantastic! They helped my late mother in her latter years when she had macular degeneration of her retinas and was partially blind. She had a reading machine donated for her to use as long as she needed that magnified her book pages real big, like when she read her bible. She loved it, otherwise would have been unable to read it!"
Through these programs we are able to help people increase their independence and it's why we love what we do so much. We would like to thank anyone who has donated a computer or a piece of assistive technology so we can get that into the hands of individuals with disabilities in the state of Indiana who don't have the means to obtain them and if you know of anyone that is struggling with a task, let them know to reach out to us because there is mostly likely assistive technology available that can help them too.