Over the years I've written about several pill organizers and dispensers. I recently heard about a newer one called the Hero Smart Pill Dispenser. Hero is a pill organizer that automatically sorts, dispenses, and reminds you to take your medications and vitamins.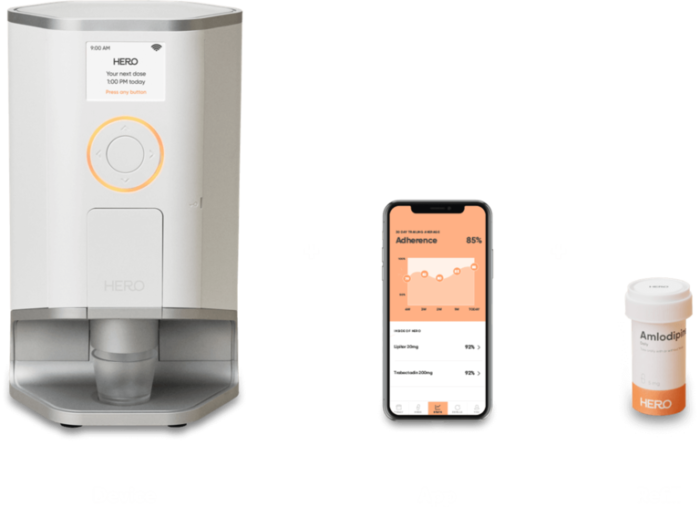 The website shares the inspiration behind the device:
Five years ago, Kal Vepuri unexpectedly became a caregiver when his mom fell ill and was put on a number of different medications, each with different dosing schedules. Though a highly educated physician, even she found it difficult to stick to her medication schedule.  And there was not a single pill box, pill dispenser, mail-order pharmacy or care service out there that was helping…
The Hero Smart Pill Dispenser helped Kal's mom gain some of her independence back. The website also notes the goal of the device isn't to replace caregivers, but rather to "help streamline the process."
The pill dispenser pairs with the Hero app which can remind you when you're due to take your medicine. From simple to complex, Hero remembers your daily pill regimen and can dispense several meds multiple times a day.
Features of Hero Smart Pill Dispenser:
Works with any size or shape
Holds up to ten medicines/vitamins each day
Audible and visual reminders keep things on track
The Hero app (available on Android and iOS devices) allows you to stay up-to-date with your loved one's health

You can get notifications the moment they miss a dose, or when they are running low on a medication

Easy to set up:

First you'll enter the name of the pill and set its schedule in the Hero app
The machine will then offer you a cartridge to fill
Pour the medicine into the cartridge and place it back in the machine

You can set it up so a 4-digit pin code must be entered before dispensing pills
Optional Hero Fill service helps keep you from running out of medications and supplements
Click here to learn more!