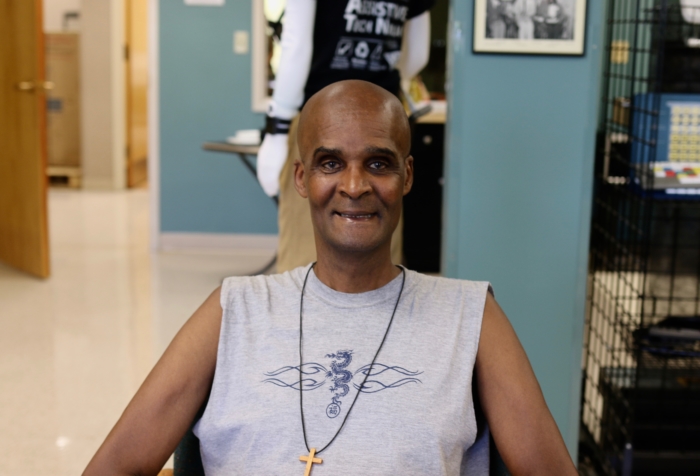 Daniel Mayberry was born in Indianapolis, Indiana and was in 16 different foster homes growing up. He went to the Indiana School for the Deaf in Indianapolis and graduated in 1979. He told me that the foster homes that he was placed in were always hearing families and he often felt very left out. He only understood a feeling of whether they were happy or unhappy with him by facial expressions. It was at the deaf school where he learned ASL. His only means of communication with people who do not know ASL is to write notes back and forth to each other.
Daniel worked in hotels in the housekeeping department for 20 years and has since retired. He used his system of writing notes back and forth with staff in the hotel if he needed to communicate and if there were any big issues that needed resolved they would call in an interpreter. He was able to do his job independently because it did not require a lot of communication.
Daniel has always used public transportation or walks where he needs to go. He moved to an area where a lot of things are walking distance from his home so he could live independently. Being dependent on public transportation and not being able to communicate with anyone who does not know ASL can at times make running errands for Daniel challenging. When he finds himself in need of assistance, he will at times reach out to Deaf Community Services at Easterseals Crossroads.
Daniel has used Deaf Community Services for years and utilizes their services if he needs an interpreter to go to the doctor or if he doesn't understand any mail that he receives. Deaf Community Services (DCS) is program that provides services to Deaf or hard-of-hearing individuals. They offer sign language/spoken English interpreting between hearing individuals and the people who are Deaf or hard-of-hearing. They also provide case management services such as advocacy and community outreach.
One day when he was getting assistance at DCS, his case manager told Daniel about The INDATA Project's Equipment Reutilization Program. With the ability to do a lot of things online these days, they thought having a computer could really increase Daniel's independence. In the Equipment Reutilization Program donated computers are received from donors, wiped of all previous data, refurbished and provided at no charge to individuals with disabilities who live in Indiana and have no other means of obtaining a computer.
DCS assisted Daniel in obtaining an application from our Equipment Reutilization Program and assisted him in filling it out. Once a computer became available, INDATA staff reached out to Daniel to come and get his computer. He met with staff to pick up his computer and they showed him how to use the laptop and helpful tips such as how to increase the font size.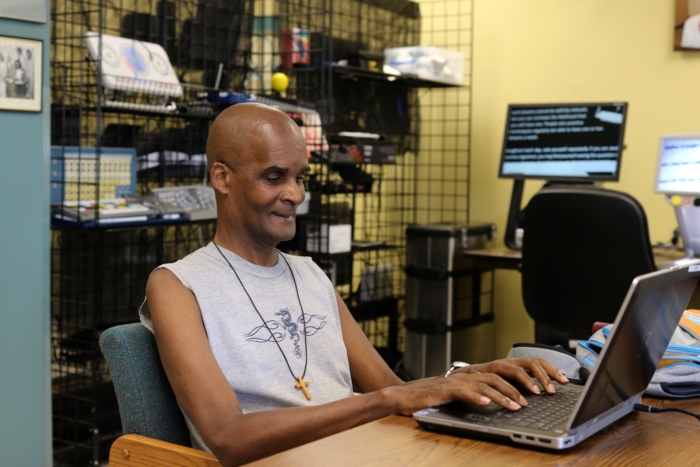 Daniel can now access e-mail from home and having the laptop has made things such as socializing or tasks like banking easier for him. He would typically have to walk to run errands and this allows him to do some of those things from the comfort of his home. The laptop will also assist him in being able to communicate with others as he can use it as a videophone. Daniel stated that he was very thankful to be able to receive a laptop that he could not otherwise afford and it's wonderful to see another person's life enhanced by the generosity of our donors who donate computers to our program.