Several individuals with autism, sensory processing disorder, and more often benefit from deep pressure therapy.  Deep Pressure Stimulation (DPS) is "firm but gentle squeezing, hugs, or holding that relaxes the nervous system."  The Big Hug Deep Pressure Positioning Aid is a positioning aid designed to calm, reorganize, and redirect the energy of children and adults with autism or other special needs.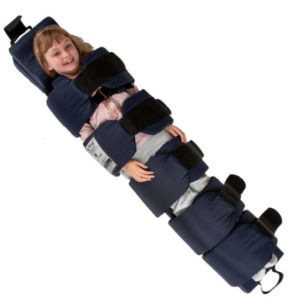 The Big Hug Deep Pressure Positioning Aid has been proven to be effective because it allows the caregiver to simultaneously apply different amounts of soft, wrap-around pressure to five separate areas.
Overview of the Big Hug Deep Pressure Positioning Aid:
Five individual, adjustable body wraps allow for range of pressure to vary across the body
Users are able to release the aid's Velcro-style hook and loop straps whether their hands are outside of the Big Hug or alongside the body and wrapped inside
Includes adjustable waist belt and cushioned shoulder straps for application of downward pressure
Horseshoe-shaped pillow for additional safe, head control for lying on back
Made with institutional quality, water-resistant materials that exceed cal 117 fire codes and are treated with antibacterial and mold retardants
Recommended for children over two years of age
Check it out on eSpecial Needs website to learn more!