MyFirstApp is a company that develops several apps that are suitable for all stages of development.  If you're looking for an app to help teach your child or student multiplication, check out MyFirstApp's Multiplication Table AR App.
According to the app's description, "With this brand new app, kids could learn the multiplication board in a fun and creative way."  The app uses augmented reality (AR) technology to make a multiplication board appear in 3D.  This means you're able to make a multiplication board appear in any environment!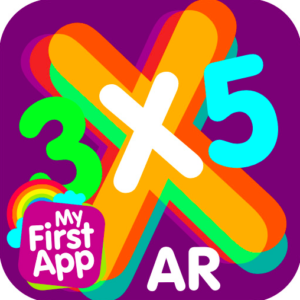 If you're unfamiliar with AR technology, here's a description of it:
Augmented reality is the blending of interactive digital elements – like dazzling visual overlays, buzzy haptic feedback, or other sensory projections – into our real-world environments.
In addition to practicing and learning multiplication, the app also helps develop spatial perception, fine motor skills, and coordination skills.  Another huge benefit is that it gets kiddos moving so they're not just sitting still (which makes this app especially ideal for individuals with ADHD).
How to use MyFirstApp's Multiplication Table AR App:
At the bottom center of the screen, a yellow alternating number will appear
Find the appropriate exercise in the space in front of you, approach and touch the orange circle underneath it until it turns green
When it turns green, that lets you know that you've solved that exercise correctly
Visit MyFirstApp's website to learn more or check it out on the App Store!
(Click here to read my article on Pokémon Go, another app that utilizes augmented reality technology!)