If your elderly loved one is having a hard time operating his or her Android phone, check out the Senior Homescreen Pro App.  Many individuals only use a few apps and this app makes it easier to access those particular ones!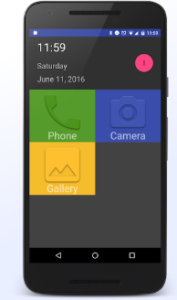 This Android launcher app selects three apps by default, but you can easily add the ones most relevant to you or the user.  The setup is simple, but is ideally set up by someone familiar with smartphones.
Overview of the Senior Homescreen Pro App:
Unlike the free version, the pro version of this app does not contain any ads
Users can try the pro version out for free for 30 days; after this trial period, the free version will begin showing ads
Time, date, and day is always shown
"If you ever panic and cannot find the code to enter the settings menu, the code is 5156"
For the best performance, select Senior Homescreen as your launcher app:

Simply press the home button on your phone after downloading the app
Then select "Always Use" Senior Homescreen
Check it out on Google Play to learn more.