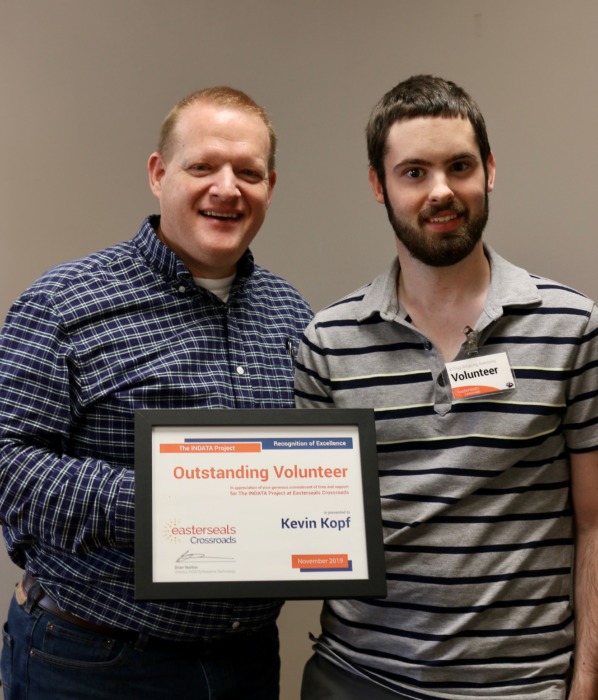 Kevin was born in in Indianapolis, Indiana and was raised with 2 sisters, one who is his twin. He was born with a mild form of cerebral palsy and has autism. In 2015, he graduated from Carmel High School. He then went to the University of Indianapolis and majored in Earth Science and graduated in 2018. After graduation, he started as an intern through the College Internship Program through the Employment Division at Easterseals Crossroads. With the help of his employment and behavioral coaches at Easterseals Crossroads, Kevin is actively looking for employment and working on learning social skills in a work environment. Kevin hopes to one day obtain a position as a support technician for an IT help desk.
It was through the employment services program that Kevin learned about the opportunity to volunteer in the Equipment Reutilization Program (aka The Depot). This program is through the INDATA Project and provides free computers to individuals in the state of Indiana who have a documented disability and have no other means of obtaining one. The Depot takes in donated equipment such as laptops, computers, CCTVs and refurbishes them to give away. Volunteers play a big role in refurbishing the donated equipment that is then given away.
To gain real life employment experience that Kevin could put on his resume, he decided to volunteer. Kevin has now been volunteering in the Depot for a year and a half. As a volunteer, he spends his time wiping hard drives on the computers that are donated to the program and making sure that the ones that are going out are updated with the most current software. Kevin says he loves the closure of completing the task of clearing off the hard drives and knowing that he is giving back to the community and his favorite thing about volunteering at The Depot is "making sure computers are updated."
Kevin has been a great asset as a volunteer in The Depot and was recently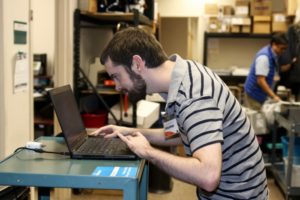 recognized as The INDATA Project Volunteer of the Year. Alvin Alviar, ReUse Coordinator at The INDATA Project said, "We are very lucky to have Kevin as a volunteer. He is our workhorse. He just goes and goes like that energizer bunny. Tracy Castillo, INDATA Program Manager, said, "Kevin is a hard worker.  He is constantly working hard at keeping our computers updated and safe from any viruses or intrusions. Kevin is our local expert on what Windows version each computer should be running. He also is very knowledgeable about future software updates and ways to proactively protect the computers we are giving away. Kevin also has a very warm rapport with everyone that he comes in contact with and is a joy to be around."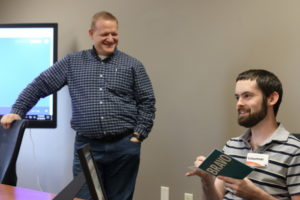 To thank Kevin for his hard work and dedication staff organized a pizza party lunch, invited some of Kevin's family and presented him the Volunteer of the Year Award. It was a lovely lunch where the staff could let Kevin know how much his volunteer efforts are appreciated. When his parents found out that Kevin would be recognized as the Volunteer of the Year, they said, "Oh, we can't tell you how moved we were when reading about this award and the wonderful words you spoke about Kevin. As his parents we know what a very kind and helpful person he is and it is so wonderful to read of the positive impact he has on others as well. He has enriched our lives in ways we never could have imagined and I love that he has the opportunity to share these wonderful attributes with others. His time working with you at INDATA has been invaluable in so many ways and we love to hear of the progress he is making, both personally and technically. We see it as well. And we feel so blessed for how "at home" he feels there. We know how much he loves what he does and the interactions he has with you and the others there.
We want to again congratulate Kevin on this award and thank him for his dedication to the team. Kevin plans to continue to volunteer as he works with employment services to find a position in IT and we thank him for his hard work and the positive impact he has had on our staff and so many people in the state of Indiana who have received one of the many computers that he has refurbished.
If you are interested in becoming a volunteer:
Hover your mouse over Get Involved
Select VOLUNTEER
Scroll down to the third paragraph and click the link for Online Volunteer Application
Fill out application
List "INDATA Depot" in the Preference section of application
Please email Alvin Alviar at aalviar@eastersealscrossroads.org if you have any questions.