The pincer grasp is an important milestone in fine motor development.  According to the Children's Hospital of Orange County, "A child will usually start to develop pincer grasp around nine months of age."  This can be very difficult for children with cerebral palsy, muscular dystrophy, or other special need(s) to master.  If you're looking for a fun toy to help encourage fine motor development, check out Steggy the Fine Motor Dino!
The Steggy Fine Motor Dino is an adorable, colorful "prehistoric pal who is ready for fine motor fun!"  Steggy comes with ten pinchable, pullable scales that help encourage pincer grasp.
Learning Resources further elaborates:
"Prepare them for a lifetime of learning with a fine motor friend! Inviting animal pal encourages little hands to grab and grow with tactile pieces they can push, pull, turn, store, and more. Introducing your toddler to Steggy is only the start of an exciting learning adventure. That's because one-on-one, hands-on play helps toddlers understand cause and effect, boosting confidence in their own ability to solve problems and do independent work. And all the while they're building hand strength, the key to such fine-motordependent tasks as holding utensils and feeding themselves, getting dressed and tying their own shoes, and eventually, drawing and writing. Fine motor is truly a lifelong skill! But it all starts with your toddler's budding imagination and curious mind. Steggy is ready for the journey!"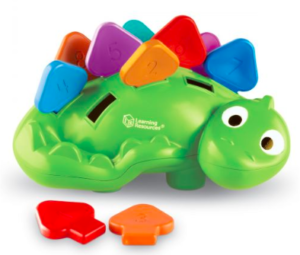 Overview of Steggy the Fine Motor Dino:
Steggy features ten pinchable, pullable scales which encourage pincer grasp, hand strength, and other fine motor skills development
The scales also come with a 3-in-1 learning surprise!

In addition to building fine motor skills, scales also introduce children to early color matching and number recognition skills thanks to their bright designs

Comes with Steggy the Fine Motor Dino and 10 colorful scales numbered 1-10
Click here to learn more about Steggy!