Traditional tablets may be hard if not impossible to use for individuals with visual impairments.  Special Needs Computer Solutions, Inc. offers many solutions, one of them being the insideONE Tactile Braille Tablet.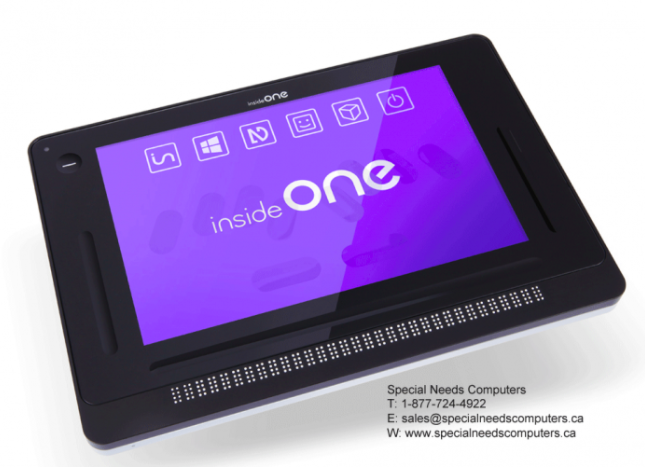 The insideONE Tactile Braille Tablet is a "touchscreen braille PC tablet with 32-cell refreshable braille display for individuals with visual impairments."  It unites the world of Braille and print.  Here's how it works:
"Braille input is instantly displayed on a screen allowing sighted people to have visual access to what was Brailled and anything typed on the screen is available on the refreshable Braille display. Parents and children, teachers and students, blind and sighted coworkers can collaborate effortlessly."
Overview of the insideONE Tactile Braille Tablet:
The insideONE is the "very first tactile Windows-10 tablet with a fully integrated, superior quality 32-cell refreshable Braille display"
Users have the option to write choosing Braille or QWERTY keyboards
Individuals can read files on a refreshable Braille display or on the 10-inch HD screen

HD screen can darken for privacy or to conserve battery life

Instant translation from Braille to text and back
Enables instant communication between individuals who can and cannot read Braille
Use of familiar smartphone-like hand gestures: each hand action provides a user with auditory, visual and tactile feedback
Multiple languages and Braille grades to choose from
Instant visual representation of Braille input in text and SimBraille
"Perkins-style Braille keys are engraved into Gorilla Glass offering an easy way to correctly position one's hands"
Made of a solid piece of aluminum alloy1
Click here to learn more about the insideONE tablet!
Check out our Tech Tip on this device by clicking here.