Are you looking for a way to hear your TV with more clarity without disturbing others?  The SEREONIC TV Soundbox "brings TV or audio sound directly to you."  The volume control works independently of your TV, so you are able to adjust the volume or turn it ON/OFF without it affecting volume for other viewers!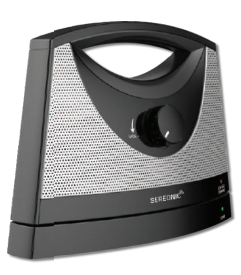 The SEREONIC TV Soundbox is easy to install: simply plug the transmitter into the audio-out ports of your TV, cable box, or music system.  The transmitter serves as a charging dock when the receiver is not in use.
Overview of the SEREONIC TV Soundbox:
According to Serene Innovations Inc, "No more blaring volume or straining to hear your favorite programs"
Battery life lasts up to 10 hours of use with a user-replaceable rechargeable battery
The transmitter serves as a charging dock when it's not in use
New snooze function that gradually decreases the volume and shuts it off after one hour
Several options for audio connectivity: Analog, Digital optical, and Bluetooth
HDMI Connection is possible through the HDMI Converter (sold separately)
What it comes with:
Wireless receiver (speaker)
Transmitter base
AC Adapter
RCA Y-Adapter cables (optional for connection flexibility)
Digital optical cord
Audio cord
Operating Guide
Click here to learn more!