Fat Brain Toys offers several toy options for individuals who have difficulties with vision, mobility, hearing, or other special needs!  One toy ideal for children with visual impairments is the Rainbow Music Hand Bells.
According to Fat Brain Toys, "These vibrant bells provide kids with a wonderfully intuitive first-time music-making experience that's fun and easy. Just pick them up and give them a ring to hear them sing."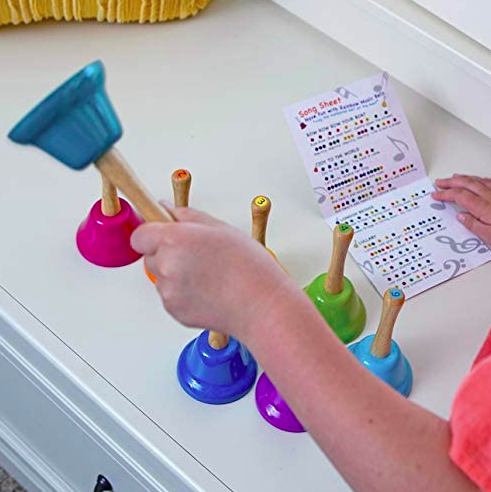 The package comes with eight color-coded and numbered handbells.  Children will have fun lining the bells up according to their numbers and open up the included song sheet.  The numbers are above the lyrics of your favorite songs so you can easily play along!
Other Features of the Rainbow Music Hand Bells:
Comes with 8 color-coded and numbered handbells in the key of C Major

Also comes with a song sheet

Songs in the song sheet show bell colors and numbers above lyrics, making it easy to play along
The song sheet includes the following songs:

Row Your Boat
Twinkle Little Star
Joy to the World
London Bridge
Mary Had a Little Lamb
Old MacDonald
Jingle Bells
Lullaby

The bells encourage hand-eye coordination, number skills, music skills, and creativity
They each measure 5 x 3 x 3 inches
Bells feature a metal bell, sturdy wooden handle, and hard plastic beater inside with metal spring
For children ages three and older
Click here to learn more about the Rainbow Music Hand Bells!