PopAppFactory offers a variety of educational apps for children.  If you're looking for an app to help teach your child/student learn numbers, shapes, and letters – check out their Mini-U: Logic app!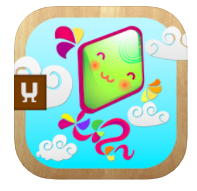 According to the app's description, "The game of Logic is a great educational and teaching tool for your child."  It helps teach the basics of colors, shapes, and more.  It is a 5-in-1 game of "interrelated activities allowing you to help your child expand their judgment, comprehension, and decision-making."
Overview of the Mini-U: Logic App
Whenever your child makes a match in any game within the Logic app, the app will pronounce the color, shape, number, etc.

Words are said by a native speaker loud and clear (the speech isn't computer-generated)

A "very unique" feature allows users to choose the language the game uses by selecting the narration language.  Language choices include:

English, Spanish, French, Russian, German, Dutch, Italian, Swedish, Arabic, Portuguese, and Ukrainian

The app features 5 main games – Colors, Numbers, Letters, Pictures, and Figures.

Pictures: this game will test and expand your child's deductive capabilities.  This game is based on colors and shapes, but the colors and shapes aren't readily matched

The child will look at a tile with a picture on it and figure out the shape it contains or the color it has in it, and then they'll select the matching tile!

The other activities focus on one subject at a time (colors, numbers, etc.) so they are a bit easier

You can adjust the volume of the music or sound in the game, or simply turn it off
You can share the results of the game on Facebook or via email
Click here to learn more!