Yesterday I wrote about a few different car phone mounts that are disability-friendly.  The mounts I have had the most luck with are ones requiring a PopGrip on the back of your phone.  The Popsocket company now offers a new type of convenient product: introducing the PopGrip Stash!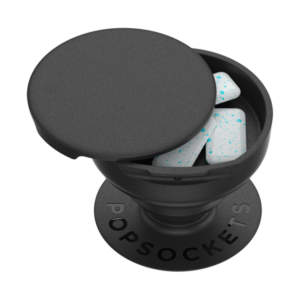 Before diving into the details of the PopGrip Stash, I want to provide a brief synopsis of what a PopGrip is.  In sum, they are a compact, collapsible product that secures on the back of your phone.  For me, it allows me to secure and operate my phone with one hand easily.  (I also currently have a car mount that I slide the PopGrip in and out of with ease – and my phone will stay put even on the bumpiest of roads!)
When I saw an ad for the new PopGrip Stash, I saw so much potential for individuals with or without special needs.  It is a PopGrip that features a compartment where you can store small medications and take them with you on the go!  (Never forget to take your heartburn medicine again!)
Overview of the PopGrip Stash:
Swivel lid makes it easy to store small medications so you have them with you on the go!
The swappable ecosystem allows the PopGrip to be secured to your phone, PopChain, or anywhere you have a PopGrip base
Offers a secure grip so you can text with one hand, take better pictures, and more
Functions as a convenient stand so you can watch videos on the fly
Repositionable and sticks to most devices and cases

*Please note it may not stick to silicone or waterproof cases

Dimensions: 39.72mm diameter x 14.85mm H (when it is collapsed)
And more
Check out Popsockets website to learn more!
See also: Asobu pill organizer water bottle, which conveniently allows you to store and take your meds on the go!