Since I began driving, I have tried a few phone mounts in my van.  Unfortunately, a majority of them require strength and good dexterity to secure and remove the phone from the mount.  If you are looking for a more disability-friendly mount for your phone, keep on reading!
Before diving into a few accessible mounts, I wanted to show a more common mount.  Here is just one example of common car phone mounts: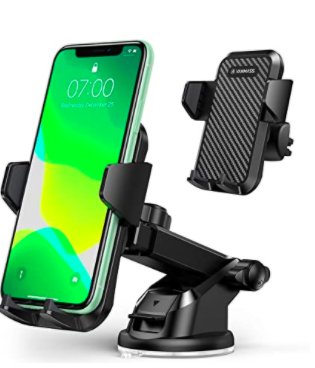 Many people are able to easily open the sides to secure or remove their mobile device(s).  However, for individuals with muscular dystrophy, spinal cord injuries, and more – their hands are often not strong enough to manipulate this type of mount.
3 Disability-Friendly Car Phone Mounts:
When I say "disability-friendly" mounts, I mean car mounts that don't require much (if any) strength.  I have tried a few different ones that have worked wonderfully.
Magnetic phone car mounts are an easy, affordable solution.  You simply attach the adhesive magnet to the back of your phone and place the mount where you need it. Then all you have to do is place your phone on the mount and voila!
Features:
This particular product comes with 2 car mounts, 3M magnetic tape base (for back of phone), extra adhesion pad in each product (in case of re-installation)
The adhesive dash car mount is made from "the finest carbon fiber reinforced plastic, with the magnetic surface's design ensured to pop out in any setting"
Strong enough for even the roughest of roads
Click here to learn more.
If you're looking for a more flexible option, check out the Pop-Tech mount!  This mount requires a Popsocket on the back of your phone.  Once you have that installed, you simply slide the socket into the mount.
Features:
Strong adhesive with suction power: clean the area you want to place the mount and lock it down

The suction is very strong with a sticky base to ensure it doesn't slide around

360º rotation – the mount features a swivel ball joint that allows you to adjust it
Your mobile device can rest horizontally or vertically
For use on flat surfaces like the dashboard, windshield, cup holder, etc.
Click here to learn more about the Pop-Tech car mount.
This mount is the easiest one to install: it simply slides onto your vehicle's air vent.  This one also requires a Popsocket to be installed on the back of your phone.  Once they are both secure, slide the socket into the mount and it'll hold your phone for you!
Features:
One-hand operation
Easy to install – no tools required
"Delicate appearance fits perfectly into your phone holder and holds your cell phone firmly"
Compatible with all smartphones
Click here to learn more!