AbleNet Inc. offers a variety of resources and assistive technologies.  One of their most recent products is the new SuperTalker FT.
The new SuperTalker FT includes "four interchangeable keyguards that can be used to create a communication device with one, two, four, or eight message locations."  It utilizes a Feather Touch technology to activate.  This means it is sensitive enough to detect the lightest of touches.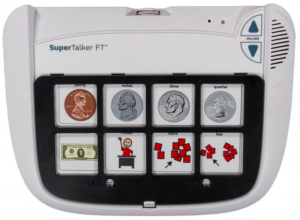 SuperTalker FT is switch-accessible.  Simply connect one switch to each message location for direct message playback, or step through each message location sequentially.  Use the two toy/appliance outputs to turn the device into a switch and add communication to your activity!
Overview of SuperTalker FT:
Feather Touch (FT) technology makes surface-sensitive enough to detect the lightest of touches
The two-grid format provides choice-making opportunities that students can use throughout the day
The four-grid format provides curriculum-specific messages so student is ready to participate in any class activity
8 levels of communication

16 minutes total record time

Selectable 1,2,4, and 8 grid formats with keyguards
8 input jacks for single-switch access to any specific location
Volume control with a lockout feature
Built-in keyguard storage
Requires 4 AA batteries (not included)
Click here to learn more!