I have written about many weighted wearables and blankets over the years, but I have yet to write about Moon Pals!  Moon Pals are weighted stuffed animals that hug you back!  They may benefit individuals with autism, ADHD, anxiety, insomnia/sleep disorders, and more.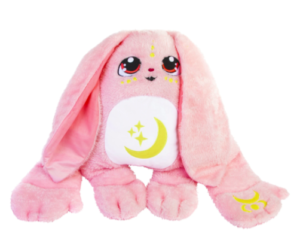 Moon Pals are "engineered to harness the benefits of weighted therapy."  Many weighted products mimic a therapeutic technique called deep pressure stimulation:
"Deep Pressure Stimulation (DPS) is firm but gentle squeezing, hugs, or holding that relaxes the nervous system. This pressure can be applied with the hands, special massage tools, or products that your child can wear or wrap around themselves to provide pressure.

Done properly, this therapy triggers a chain reaction in the body that releases an overall sense of calm and peace."
Moon Pals are made out of a "soothing, durable, plush fabric" ideal for snuggling.  They can help individuals sleep, relax, reduce anxiety, increase concentration, and more.
Overview of the Moon Pals Weighted Stuffed Animals:
The arms feature individually weighted compartments, making it easy to wrap around your shoulders and neck
Made out of a micro-plush therapy fabric perfect for cuddling!
Children can fiddle, touch, and stroke the Moon Pal's floppy, gradient ears for a multi-sensory experience
The Pals also feature pressure points that "optimally distribute weight around the stomach designed to recall the sensation of holding a small child or pet to facilitate ultimate stress relief
Whether the Moon Pal is laying around your shoulders, draped over your body during sleep, or sitting on your lap, the "curved horseshoe-like weighted legs make for an incredible feeling in any position"
Click here to learn more about Moon Pals!