Duck Duck Moose is a company striving "to make fun and engaging apps that encourage imagination, creativity, and learning in children."  One of their apps is ChatterPix, which can make anything talk — pets, friends, doodles, and more!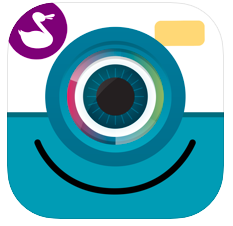 Before diving further into the app, here's more on its developer:
"Duck Duck Moose, an award-winning creator of educational mobile apps for families, is a passionate team of engineers, artists, designers, and educators. Founded in 2008, the company has created 21 top-selling titles and has received 21 Parents' Choice Awards, 18 Children's Technology Review Awards, 12 Tech with Kids' Best Pick App Awards, and a KAPi award for 'Best Children's App' at the International Consumer Electronics Show."
Using ChatterPix is free and easy: simply take any photo, draw to create a mouth, and record your voice.  Then you can share your masterpiece via social media and email.
Overview of the ChatterPix App:
Create "ChatterPix" with friends and family as silly greetings, playful messages or creative cards
Simply take any photo, draw a line to create a mouth, and record your voice
This app allows sharing via email, Facebook, and YouTube
Tools available within the app:

22 stickers
12 frames
11 photo filters
The developer behind this app is now a subsidiary of Khan Academy.  Like all Khan Academy offerings, all Duck Duck Moose apps are now 100% free without ads or subscriptions.
The ChatterPix app is available for download on the App Store.
Check out my blog on Khan Academy Kids by clicking here.