Many individuals with anxiety, ADHD, sensory needs, and more often fidget.  I have written about several available fidgets over the years, but none are as discreet as Calm Strips.  In sum, Calm Strips are sensory adhesives that you can stick to your phone, laptop, journal, desk, wherever!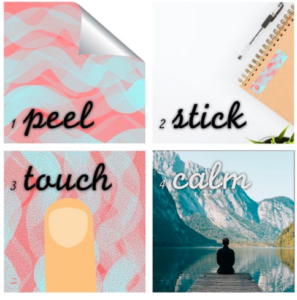 Here is more from the product's website:
"Calm Strips are sensory adhesives. They are made from a thin but extremely hardy and durable vinyl. Crafted to help soothe anxiety and fidgeting by grounding you in a calming scene and giving you a gentle, but textured, surface as a stimulus."
The strips feature a water-resistant, textured finish that is equal parts durable and soothing to the touch.  They are made out of materials built to withstand the elements (water, sanitizing, etc.) for up to four years.
Each design is from an eclectic artist, from painters to cutting-edge digital artists.  The developers utilize a "high-quality, digital printing process to ensure vibrant colors and sharp details."  Each collection embodies a calming scene in nature, "like the beauty of the night sky over the majestic Antelope Canyon in Arizona."
Overview of Calm Strips:
Ideal for both children and adults seeking a discreet calming product

Users simply rub their fingers on the textured strip whenever they need to fidget and/or relax

Strips can adhere to many flat surfaces like laptops, desks, phones, folders, and more
They are made out of a durable, reusable adhesive so you can remove and reuse them
60-day money-back guarantee