Cognitive-behavioral therapy (CBT) is a form of psychotherapy that "focuses on modifying dysfunctional emotions, thoughts, and behaviors by interrogating and uprooting negative or irrational beliefs."  Playing CBT is a company that offers therapy games based on this psychotherapy.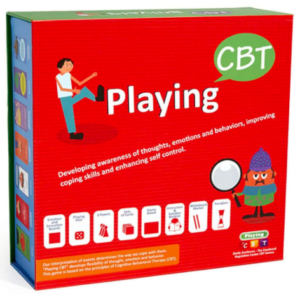 According to Playing CBT's website, the game provides therapists with "quick, direct access to children's actual emotional worlds in a fun and creative way."  The site continues:
"While playing, children learn to identify the diverse elements of their emotional experience, practice being more flexible with their thinking, emotions, sensations and behavior, and discover alternative and better ways of dealing with the different situations they encounter in their everyday lives.

The result is substantial reinforcement of self-control and emotional regulation, and a significant decrease in impulsive behavior."
Overview of Playing CBT Therapy Game:
Therapeutic game based on the cognitive-behavioral theory

Unique, effective tool for developing more flexible physical, emotional, cognitive, and behavioral reactions and habits

The game is "highly effective" for children, adolescents, parental counseling, staff training, and therapy (individual, couple, or group sessions)
Change occurs while having fun playing the game – through open dialogue and a positive atmosphere
Playing CBT allows patients to make significant progress through three essential steps:

Acknowledging all parts of the emotional experience — thought, emotion, sensation, and behavior
Identifying external triggers (events) and internal triggers (thoughts and emotions)
Applying flexibility of emotions, thoughts, and behavior by thinking coping thoughts and using the "Rethink" cards to refute automatic thoughts
What's inside the box?
The Playing CBT game box contains cards with carefully chosen questions.  There are many available options for diverse therapeutic goals, ages, and developmental stages:
Introduction to the Cognitive Behavioral Approach: Game boards 1 and 2
Emotion Games: Mixing Emotions, Emotion Bingo, and Identifying Others' Emotions
Thinking Games: Emotion-Event memory game, On the One Hand/On the Other Hand, Coping Thought/Negative Thought, and more
Thinking Traps: On Second Thought, The Mind Reader
Interpersonal Interactions: the Chain of Behavioral Reactions, The Chain of Parental Reactions
Other Games: Speed CBT, Quartets (Go Fish), and more
Click here to learn more about this cognitive-behavioral therapy game!