If you or a loved one are in the market for a new portable video magnifier, check out the new Zoomax Snow 12!  With the Snow 12 video magnifier, you can more easily write, read, view objects, and more!
One neat feature of this device is its analog stick.  The built-in analog stick allows you to easily pan around a document without needing to move your reading material so much.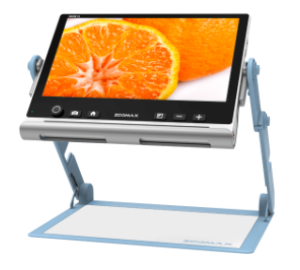 The developer's website goes on to state the benefits of this video magnifier's stand:
"The foldable stand lifts Snow 12 off the table for times when you'd prefer to place reading materials or objects like a medicine bottle or small item underneath. The stand also makes it much easier to see what you're writing."
Overview of the Zoomax Snow 12 Video Magnifier:
Snow 12 can be used with or without its foldable stand

When it isn't in the stand, the device functions like most other handheld video magnifiers

When it is folded shut, the magnifier is thinner than a notebook computer
Comes with a carrying case big enough to carry the Snow 12 and its foldable stand together

Also comes with a sleeve case bag to hold just the magnifier

Features new contrast customization so you can make fonts thinner or thicker on demand
According to its description, "If you like to read any text in a high contrast mode such as white on black, you will love how sharp the contrast is with this magnifier"
Features the latest OCR technology so it can recognize 20+ different languages and convert printed words into speech
Easily adjust the reading speed

You can also choose between male and female voices

The Snow 12 can save documents for future reading and can be exported to a Windows PC
Check out Zoomax's website to learn more!