MaxiAids offers hundreds of products for individuals with mobility, hearing, and/or visual impairments.  The Clover 10 Handheld Video Magnifier is one of the company's available solutions for individuals with low vision.  In sum, the Clover 10 is a portable video magnifier with "excellent full HD image quality."
The Clover 10 Handheld Video Magnifier features a large 10-inch wide HD display.  The portable, lightweight device also comes with a built-in, foldaway stand which "provides an amazing reading and writing experience for individuals with low vision."  Further, the ergonomic viewing angle of the stand makes it easier to read more for a long time in a comfortable position.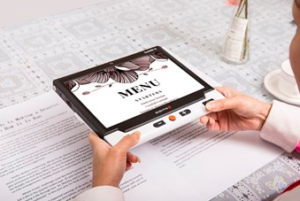 The user manual provides more detail on the video magnifier:
"Clover 10 is a portable 10-inch video magnifier with excellent Full HD image quality, which assures the real-time crisp image while moving or changing magnification continuously from 2.5X to 18X. The integrated dual camera system provides three viewing ways to fulfill the daily use. For example, Near View to read books or newspapers; Far View to see posters or blackboards; Mirror View to dress up."
Overview of the Clover 10 Handheld Video Magnifier:
Portable 10-inch handheld video magnifier
Full HD image quality
Snapshot freeze feature enables you to take pictures and examine the image at your convenience
Large and clear control buttons and joystick are mounted on a separate bar under the display; this allow fast access to all functions without the device moving
Foldaway stand provides a comfortable viewing angle for reading and writing
Color modes:

Full Color (True Color for pictures and maps)
5 Simple Color Combinations
18 Integrated Enhanced Color Combinations

Magnification 2.5x – 18x
Battery runtime: 3 hours
Click here to learn more!