Have I mentioned how much I love my job?!  Even after all these years of blogging and podcasting on assistive technology, the excitement I feel learning (and writing!) about new assistive solutions never slows.  While browsing the internet, I stumbled upon a new innovative solution: the Smart Mouthware Computer Mouse.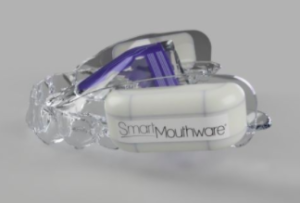 The Smart Mouthware Computer Mouse is a phone or computer mouse you can control with your tongue!  JJ Moritz and Matt Schultz are the engineers behind this device. According to the Assistive Technology Blog:
"The engineers began working full-time on this project in November 2019.  They are collaborating with Colin Heffern, a landscape architect who is quadriplegic, and staff at Craig Hospital, to test the first set of prototypes."
The Smart Mouthware Computer Mouse takes an orthodontic retainer and adds a built-in touchpad to the roof of said retainer.  This allows users the ability to move the cursor by simply moving their tongue across the roof of their mouth.  Clicking (left, right-click, and click-drag) are all done by "flattening the tongue against the roof of the mouth, and scrolling is performed by rapidly flicking the tongue across the pad in the desired direction of the scroll."
Overview of the Smart Mouthware Computer Mouse:
In sum, it can be thought of as an orthodontic retainer with a built-in wireless mouse
It can connect to multiple devices like computers, phones, tablets, and AR headsets
All standard mouse features are supported
The retainer is custom fit to each user's mouth

Customers will receive an easy-to-use at-home impression kit to fit retainer to their mouth

Virtually invisible when worn
Does not/minimally affects speech
Click here to learn more about the Smart Mouthware Computer Mouse!