TherAdapt is a therapist-owned company offering many solutions for individuals with different special needs.  According to the company's website, "From seating and positioning to recreational equipment, we have selected products with the singular goal of improving the lives of those individuals with special needs."  One of their available products is the TherAdapt Wheelchair Platform Rocker.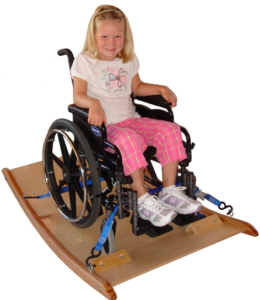 The TherAdapt Wheelchair Platform Rocker allows individuals in wheelchairs to experience the benefits of rocking right from their own wheelchair.  Adaptive Mall mentions the benefits behind rocking:
"Research has shown that stimulating the vestibular system in a controlled manner through rocking has many benefits. It can decrease self-stimulation, decrease hypersensitivity, improve postural security, improve concentration and attentiveness, increase balance, increase body awareness, have generalized calming effects, and reduce abnormal muscle tone."
Overview of the TherAdapt Wheelchair Platform Rocker:
There are three different platforms available to meet the specific needs and goals of the user:

Active: ideal for users seeking sensory input through rocking, tend to rock vigorously, or use a wheelchair with a long base
Challenge: features a more circular arc, making it ideal for users seeking a challenging exercise workout, or who wish to challenge their balance
Easy: flatter curve; made for users looking for the calming, gentle sensory effects of rocking. Especially "ideal for the geriatric population and individuals with sensory or balance deficits, as little effort is required to make it move"

For use with manual wheelchairs only
Easily roll on and roll off via the rear ramp
Promotes relaxation, vestibular stimulation, shifts in body weight, and exercise
Made of Baltic Birch Wood
Pair of adjustable front castor stops to center wheelchair on the platform to optimize rocking
Comes with two securing straps to tie wheelchair down for safety
Check out TherAdapt's website to learn more!