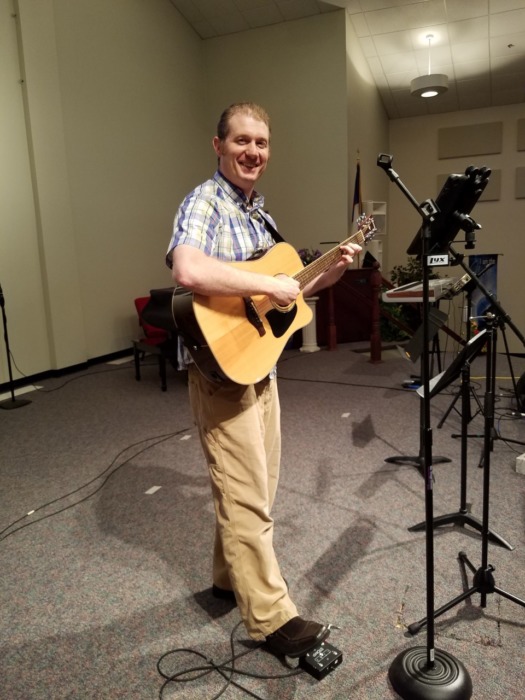 Mike DiSanto was born and raised in Cleveland, Ohio. He graduated from Mayfield High School in 2001, which is located in the Eastern suburbs of Cleveland. He was raised there with his younger sister and his parents and his sister still lives in Cleveland. Mike is married to "the love of my life, Anna and we have two wonderful children Gabriel who is 10 and Natalie who is 8." Together they all live in Kendallville, Indiana.
When Mike was 9-years-old, he was diagnosed with retinitis pigmentosa (RP) at his yearly eye exam. Retinitis pigmentosa is a genetic degenerative disorder that causes someone to lose vision. Onset of vision loss is usually gradual and progressively gets worse. Mike's vision loss began as night blindness and then he lost his peripheral vision. He now has problems with his central vision.
Mike shared with me that one of the first challenges he faced due to his vision loss was not being able to drive as a teenager. He had lost a lot of his peripheral vision by the time he was of driving age and this prohibited him from driving. Mike said, "This was sure a difficult thing for me to walk through." Mike has faced several challenges due to his vision impairment and said, "There have also been times that I have unfortunately had difficulty finding work with my condition. There have been some places I have interviewed with in the past that unfortunately did not understand people with disabilities and that we can still work and do things. This has been difficult for me and has honestly caused discouragement at times."
After graduating high school, Mike studied classical guitar performance at Duquesne University in Pittsburgh. It was there in college where he became a Christian. Mike said, "One of my fellow music major friends shared the good news with me about Christ and his salvation. Ever since becoming a Christ follower, I have had a fervent desire to serve the Lord and his people." Mike eventually went to Southern Seminary and got his M.Div. in Biblical Counseling and then moved to Kendallville, Indiana in 2014 to work as the Youth Pastor at First Christian Church (FCC) and was moved to Worship Pastor in 2018. Mike said, "I have served here for over 6 years and it has been a real blessing to serve the Lord Jesus and his people here at FCC. The Lord has taught me so much about the sufficiency of his grace in serving him although I have a physical limitation. The people of FCC have been very gracious and kind to me and have been very helpful to me with my limitations."
To assist Mike in determining what services were available to help him succeed in his career, he sought services through Vocational Rehabilitation Services(VR). VR is a state agency that provides services to individuals with disabilities to assist someone in preparing for, obtaining, or maintaining employment.  Mike was referred to work with Goodwill Industries employment services by VR. While working  with his employment counselor, Cheri Hamilton, at Goodwill she informed him about the assistive technology services at Easterseals Crossroads. They asked Vocational Rehabilitation for a referral for an assistive technology evaluation and he was assigned to work with Jim Rinehart, assistive technology specialist, at Easterseals Crossroads. An assistive technology evaluation is a one-on-one evaluation with an individual to determine the appropriate assistive technology to meet someone's needs at home, work, school, or in the community.
For the evaluation, Jim met with Mike to discuss what types of tasks he was struggling with due to his visual impairment. Jim determined that access to printed material was one of Mike's biggest barriers in doing his job and recommended a desktop electronic magnifier called the DaVinci. VR was able to purchase the DaVinci magnifier for Mike. The DaVinci was shipped to Easterseals Crossroads and Jim delivered the equipment to Mike, set it up and then trained him on how to use it. Jim also adjusted the lighting in Mike's office so he would not have as much strain on his eyes, which Mike indicates has been very helpful to him.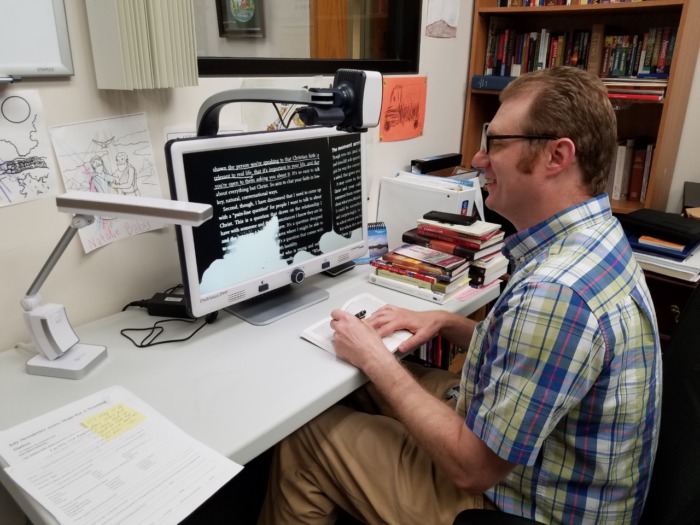 He also recommended a Visolux, which is a handheld portable magnifier that Mike can take with him to restaurants and ministry meetings. Mike said, "I love my DaVinci and both of these tools have been extremely helpful to me in continuing to do the work of ministry. Jim also recommended further training on my iPad and smartphone and a Stomp pedal so I would be able to read my music on the OnSong app and can use the Stomp pedal with the technology to turn the pages of the music." The Stomp Pedal is placed on the ground and you can click through the pages on your iPad using your foot to click on the pedal, which will flip the page." Mike uses this so he can read his music with greater ease and to switch pages while he is playing guitar as he leads the congregation in worship.
Mike also uses many of the vision accessibility features on his Apple computer. With the accessibility features he is able to increase his font, change the contrast of the font, and use the magnifying features that are built-in. His church was able to purchase a larger computer monitor that can be hooked up to his laptop so the computer screen is easier for him to read.
Mike said, "Jim was very thorough throughout the entire process. At our first meeting he brought a lot of assistive tools for me to look at. This was great as it helped me to see what's out there and what will work best for me at this point in the progress of my eye condition. He was extremely helpful and such a blessing spending hours with me answering all my questions and also looking into other tools that I can use like the Stomp Pedal. I can tell Jim really cares about those he works with. He was a great encouragement to me! Jim was also excellent at making sure things got done and got done quickly. This was awesome. I got my tools very quickly, which helped me to do my ministry with greater ease. He was also willing to come back and train me on my iPad and smartphone on how to enlarge things so I can see things better. As a pastor, I am on the phone a lot making calls and sending text messages. "
The technology that Jim has recommended has helped Mike read both music and books with greater ease and less strain, which allows him to run his worship and band rehearsals with greater ease. The magnifiers also help Mike with practical day-to-day activities such as reading bills, menus and notes.
I asked Mike what assistive technology meant to him and what advice he had for our readers and he said, "I guess I would say that assistive technology means hope and help for me. It means hope to me because I now know that there are ways/tools to enable me to continue to serve the Lord in ministry. It also gives me hope that as my eyes worsen that there are other tools out there for me to continue to learn about! It means help to me because the tools help me in my endeavor to keep serving the Lord and providing for my family in spite of my physical limitation."
"My advice would be make sure to learn all you can about the assistive technology that will work best for you. The tools can and will help you do your job with greater ease and proficiency. They will also assist you in the everyday tasks of life. I would encourage anyone in need to get in contact with Easterseals Crossroads as soon as possible so that they can get evaluated and learn what is available to them and their specific condition. I would encourage those who aren't familiar with assistive technology that the tools are one of the ways we learn to overcome our limitations."