If you're looking for a fun game to encourage gross motor skills, check out the 2-in-1 Musical Jump 'n Toss from Fat Brain Toys.  The 2-in-1 Musical Jump 'n Toss is a "spinning pole-hopping game that transforms into a spinning ring-toss game."
To begin, connect the poles, attach them to the top of the ladybug's back, and slide the yellow button to the left to begin the excitement.  "The music starts playing, the poles start spinning, and little hoppers start hopping!"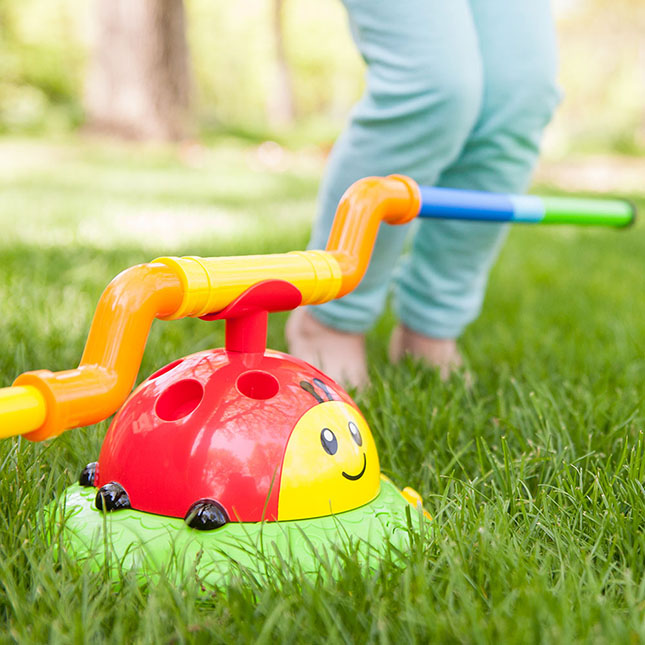 You can twist the poles to adjust their heights from low to medium to high.  Flip the button to the right to switch it to fast mode for an exciting challenge!
There's also a second way to play the 2-in-1 Musical Jump 'n Toss: turn it into a challenging game of ring toss!  To play ring toss, take the poles apart, insert the sections into the holes all around the ladybug's back, and grab a few of the colorful tossing rings.
"While the ladybug is spinning around and around, see if you can toss and snag your rings onto the poles – Whoever can get the most rings around the spinning poles wins the game!"
Overview of the 2-in-1 Musical Jump 'n Toss:
Spinning pole-hopping game that transforms into a spinning ring toss game
Encourages coordination, gross motor skills, cooperative play, and active play
The ladybug spins at 2 different speeds
Press the demo song button to hear different melodies to hop to
Pole heights can be adjusted to 3 different heights to increase the challenge
Great for indoor and outdoor play
Comes with:

Spinning ladybug base
8 pole sections
12 colorful tossing rings (4 each in green, blue, yellow, purple)

Requires 3 AA batteries (not included)
Click here to learn more!