Educational Insights has been around for 50+ years.  It is a company full of "play enthusiasts" offering a lot of toys and games to inspire children's curiosity and encourage them to explore, discover, and create.  One fun product available is Playfoam Pluffle.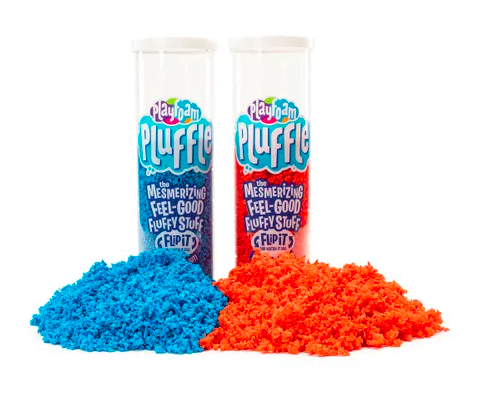 According to the website's description:
"The Squishologists at the Playfoam Wacky Workshop have formulated a brand-new squish-sation! Playfoam Pluffle is the mesmerizing, mixable, can't resistable, feel-good fluffy stuff that never dries out!"
The Pluffle comes in a variety of vibrant hues: purple, blue, pink, yellow, green, and red.  Children ages 5 and older will have fun stimulating multiple senses.  Simply plop it out of its container, squish, then release to see the "magical movement."  Or you can keep it in the tube and flip it upside down for some lava lamp-like flowing action.
Other features of the Playfoam Pluffle include:
"Mesmerizing, feel-good fluffy stuff that never dries out"
Fluffy, non-toxic, and mess-free

It is also gluten- and nut-free

Easily create sensory bins for children to scoop and dig through while developing fine motor skills
The "super-soft, fluffy" texture is perfect for tactile learning while providing a sense of relaxation
From the makers of the "world-famous" Playfoam
Check it out on Amazon to learn more!