I originally wrote about Tile back in 2014.  If you're unfamiliar with Tile products, they are essentially small Bluetooth-enabled devices you attach to items like keys, laptops, wallets, purses, etc.  Once the device is paired with the app, you can page it to help you find your item(s)!  The company now offers a sleek solution: introducing Tile Sticker.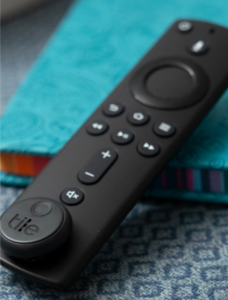 Somehow I manage to misplace my small Fire TV remote an embarrassing number of times.  The Tile Sticker is compact enough to fit on something as small as a smart TV remote!  According to the website's description, the Sticker is their "smallest finder sticks to virtually anything."
Once the Sticker is paired with the Tile app, you can use the app to ring your Tile if it's nearby.  It's as simple as opening the app and tapping the Find button.  The Sticker is ideal for something like a small electronic device like remotes because it has a shorter range (150 ft) compared to the company's other products.
Tile Sticker Overview:
Bluetooth-enabled finder that sticks to "virtually anything"
Once it is applied, the adhesive bond will completely cure after 24 hours for maximum staying power!
You can remove the adhesive if you want to put the Sticker on another item

Note: you will need to purchase replacement adhesives to stick it to another item

Reaches a range of 150 feet (46m)
3-year built-in battery
Waterproof
Dimensions: 27mm x 7.3mm
Click here to learn more!