Slumberkins offers several adorable cuddly animals and tools to help teach children different things.  For example, their Slumber Sloth collection teaches children how to relax.  If you're looking for something to encourage emotional wellbeing, check out The Feels Set.
The Feels collection builds awareness of a child's emotional experiences by prompting him/her to pay attention to their thoughts and body sensations.  It validates one's feelings as okay and healthy.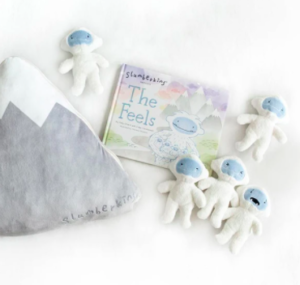 Slumberkins' blog explains the importance of emotional wellbeing:
"What if we re-framed our children's negative emotional expression as the healthy process of releasing built-up stress they carry throughout the course of a busy day? We all need to unburden our hearts by expressing our feelings. When children feel safe sharing the whole spectrum of emotions with the important people in their lives — who listen rather than trying to 'change' their feelings — they are better able to manage them without the addition of negative self-evaluation or shame."
Overview of The Feels Set:
Helps little ones become more aware of their emotions, recognize them as healthy, and offers tools to help express and support them
The Feels Set includes:

5 Mini Feels: Emotions of worried, sad, anger, scared, and calm are each represented by a mini Slumberkins Yeti
Slumberkins Mountain Pillow: perfect to snuggle up with as well as to store your Slumberkins Minis and The Feels Book
The Feels Book: join Yeti on a journey of self-discovery as she meets her feelings and learns how to take care of each one (24-page hardcover book)
Parent Resource Guide: provides reflection questions and activities to support parents and caregivers to best use this tool with little ones

A digital file will be sent at the time of purchase and a hard copy will be included in the shipment

Mini Yeti are machine washable
Click here to learn more!