If you're looking for an easy way to increase accessibility in your shower, installing grab bars is one way to do so.  Further, if you're looking for a solution that requires zero tools, check out the AmeriLuck Suction Shower Grab Bars!
The AmeriLuck Suction Shower Grab Bars are "an easy and safe solution for seniors looking for extra support in the shower."  Just as the name suggests, the grab bars suction directly onto your shower wall.
Unlike other suction grab bars available on the market, the AmeriLuck suction bars feature suction safety indicators.  The suction indicators turn green when the bar is good to grab, or red if you need to reinstall it.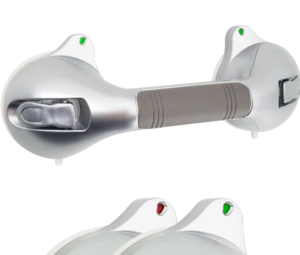 Here's how to install them:
Clean the rubber discs on grab bar(s) and clean the surface it is to be attached to thoroughly
Press as hard as possible against the wall until the green safety indicators show up
Press down on the flip-up easy release tabs, you will feel negative pressure

The greater the pressure, the better the suction
Overview of AmeriLuck Suction Shower Grab Bars:
Ideal for individuals looking for extra security in the shower
Indicators will turn green if the bar is safe to use, or red if you need to reinstall it

Before each use, test the firmness of the suction device and ensure BOTH indicators are GREEN

The suction discs cannot be mounted on grout seams
Make sure there are no textures on the shower wall
Works on flat, non-porous surfaces
One year warranty
Great for individuals who travel a lot since it can be used on-the-go!
Click here to learn more!
View our blog on bathroom accessibility by clicking here.