Oswald Labs is an award-winning accessibility technology company. Their mission is to "build new technologies that help people grow, and do it in a manner that promotes accessibility and equality." Their research project, coined Shravan, offers four accessibility apps for individuals with different special needs.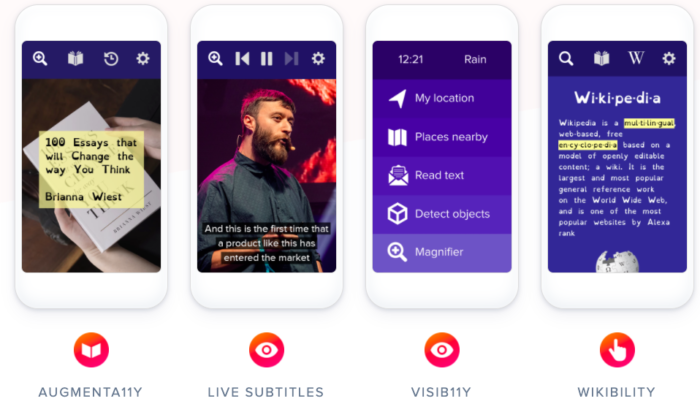 Shravan is a research project that works specifically on making smartphones accessible. In addition to their apps, there is also a Shravan Phone and Shravan OS in the making. The Shravan Phone is a "low-cost smartphone running Shravan OS, the world's first universally accessible operating system compatible with Android."
Click here to join the waitlist and to get product updates.
4 Accessibility Apps by Shravan
The Shravan app suite is a set of accessible, easy-to-use smartphone apps available for free. Yes, free! Individuals are able to download the apps on their Android or iOS devices.
Looking for an app to help your child with dyslexia read? Check out the Augmenta11y: Dyslexia-Friendly Reading App! Augmenta11y is an "augmented reality (AR) app that helps people with learning disabilities like dyslexia read signage, paper, and other materials in the real world."
The application is fairly intuitive to use: simply point your device at the object at hand and let Augmenta11y work its magic.
Augmenta11y Features:
You can customize font size, font style, line-height ratio, background contrast, letter spacing, and more
The app can assist you by reading the rendered text out loud to you
History tool keeps track of previously detected text for future reference so you can revisit anything in the future
Click here to learn more! (You can also check out my Accessibility Minute episode on the app by clicking here.)
Did you know over 5% of the world's population (466 million people) have hearing impairments?  Another available tool in the Shravan suite of apps is Live Subtitles!  Live Subtitles is an AR app which "displays conversational subtitles on your smartphone screen as someone is speaking." 
Live Subtitles App Features:
Displays captions at the bottom of the screen as soon as a user starts speaking, "literally as the sentence is being said"
"Fast and highly accurate with only certain accents and volumes not being interpreted correctly"
In the next version, Live Subtitles will not only support multiple languages but also translate in realtime between 100+ languages
Click here to learn more about Live Subtitles!
If you've ever been on the internet, then I am sure you're all-too-familiar with Wikipedia.  If you're not familiar, it is the world's largest source of knowledge.  Wikibility is born when Wikipedia meets accessibility.  While using Wikibility, users with dyslexia, visual impairments, and more can all "easily use Wikipedia." 
The app automatically highlights difficult words and works across all of Wikipedia's languages.  Wikibility is a "proof-of-concept app which implements Agastya on Wikipedia."
Features of Wikibility:
Ideal information/research app for individuals with dyslexia, visual impairments, and more
The app works "perfectly" in all languages that Wikipedia supports
Customizable: a user's preferences are saved by Wikibility; it will always show you the layout and design you are most comfortable with
Vocabulary mode automatically highlights difficult words and displays their meaning on click, "so you're always learning"
Click here to learn more about Wikibility!
Did you know the estimated number of people with visual impairments is 285 million worldwide?  Individuals with visual impairments sometimes have difficulty understanding the world around them. 
Visib11y is a "daily help app" for individuals with visual impairments.  It helps users instantly recognize objects all around them, read text on paper, find out one's current location, and much more!
Visib11y Features:
Uses smartphone camera and advanced object detection to help users learn their location, read text on paper, and more

It helps users understand where they are and informs them of the places around them (e.g. ATMs, restaurants, etc.)
The app can also tell a user what objects they are looking at

Works completely with speech and vibrations so individuals with visual impairments never have to see what's on the screen
Click here to learn more about Visib11y!