Vive Health is an "affordable medical equipment store, providing products that you'd be proud to use yourself, or give to your loved ones or patients." One of their available products is the Vive Foam Grip Tubing.  If you or a loved one have poor hand dexterity/grip, this tubing may be helpful!
The Vive Foam Grip Tubing comes in an assortment of sizes which you can always shorten the length of.  The wide foam tubing provides a secure grip on everyday items such as toothbrushes, silverware, pens, and more – for greater stability and control.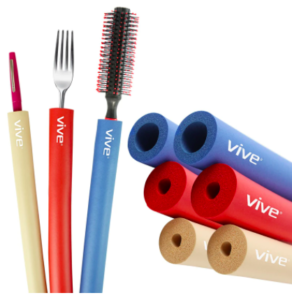 It is made out of a soft, high-density foam tubing that will not easily slide off the tool or utensil or out of your hand for a comfortable secure grip.  The nine-piece assortment of the Vive Foam Grip Tubing includes tubing in three different diameters.  The tubes are all 12 inches long, but you can easily cut them to any length to conveniently cover multiple objects!
Vive Foam Grip Tubing Overview:
Foam tubing provides a wider grip for greater control and more secure grip on everyday objects like razors, pens/pencils, toothbrushes, silverware, and more
Provides greater independence for individuals with Parkinson's Disease, ALS, Ehler-Danlos Syndrome, Rheumatoid Arthritis, multiple sclerosis and more
Tubing will not easily slide off of the tool or utensil or out of your hand
Set includes nine pieces of tubing in three diameters to use with a myriad of objects

9 piece assortment comes with three of the following:

Yellow tubes (diameter of 1.9 cm) – ideal for knives and thicker utensils
Red tubes (diameter of .95 cm) – ideal for spoons and forks
Blue tubes (diameter of .6cm) – ideal for pens, pencils, toothbrushes, etc.

Easily cut the 12″ foam piece with standard household scissors
Durable, closed-cell foam is dishwasher safe and will not absorb odors from hands or food

You can also hand wash in warm water with a mild detergent
Click here to learn more!