Every year, the INDATA Project hosts free trainings on various aspects of assistive technology.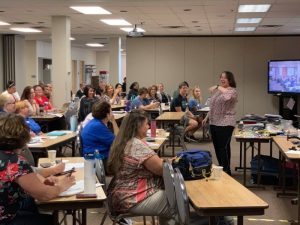 These full-day trainings are typically held at our Indianapolis facility (4740 Kingsway Drive).  They are also live-streamed via the Internet.  Continuing Education Units (CEUs) are available for both online and in-person attendees. Due to Covid-19, all 2021 trainings will be ONLINE ONLY events.
2021 Full Day Trainings:
January 19: Assistive Technology Tools and Supports for Remote Learning

Click here to register for this event!

April 8: Accessible Telehealth
June 10: Mobile Apps for Everyday Living
August 12: Remote Supports for Independent Living
November 4: Assistive Technology and Social Isolation
All future training registrations will be posted on the Full Day Training part of our website when the event gets closer.
Join our mailing list
Please join our mailing list by clicking here if you'd like to be the first to learn about each training and when registration opens for each event!
Resources
For more information on our full-day trainings or to recommend a topic, contact our Community Outreach Coordinator, Nikol Prieto, at nprieto@eastersealscrossroads.org or 317-466-2013.