Podcast: Play in new window | Download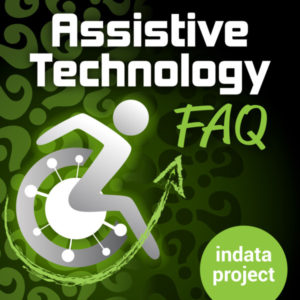 Panel: Brian Norton, Josh Anderson, Belva Smith, Tracy Castillo. Q1. Is it important to become MS Office certified, Q2. Getting rid of the Covid-19 Tracker App, Q3. O365 or Google Docs w/ Jaws, Q4. New Macbook accessibility features, Q5. Video Modeling apps, Q6. Wildcard: Will the workforce return to work after Covid?
——————– Transcript starts here ————————
Brian Norton:
Welcome to ATFAQ an Assistive Technology Frequently Asked Questions with your host, Brian Norton, Director of Assistive Technology at Easterseals Crossroads. This is a show where we address your questions about Assistive Technology, the hardware, software, tools and gadgets that help people with disabilities lead more independent and fulfilling lives. Have a question you'd like to answer it on our show, send us a tweet with the hashtag, call our listener line at 317-721-7124 or send us an email at tech@eastersealscrossroads.org. The world of Assistive Technology has questions and we have answers. And now let's jump into today's show.
Brian Norton:
Hello, and welcome to ATFAQ Episode 135. My name is Brian Norton. And I'm the host of the show and we're so happy that you've taken some time to tune in with us this week. We've got a great lineup of Assistive Technology questions for you today. But before we jump in I just want to take a moment to go around the room, introduce the folks who are here with me. We're all joining via Zoom still. But I have three of the most talented Assistive Technology folks in the world, at least in my opinion. So we'll start with Belva Smith. Belva is our vision team lead with our clinical Assistive Technology team. Belva you want to say hi?
Belva Smith:
Hey, everybody, I'm trying to have as much energy as Brian's got.
Brian Norton:
It's Monday. I got all weekend asleep. And now I'm up and ready to go on Monday. Right. Right. Next is Tracy. Tracy Castillo is the INDATA Program Manager. Tracy, do you want to say hi?
Tracy Castillo:
Yeah, I'm not too sure how much of a professional I am. But I'll give that one a try. Hello, everyone. Welcome to our today's show.
Brian Norton:
We give you two thumbs up as being a professional there. There you go.
Tracy Castillo:
I appreciate that.
Brian Norton:
Excellent. And then we also have Josh Anderson. Josh is the manager of our clinical Assistive Technology Program. He's also the popular host of AT updates one of our other flagship podcasts here at Easterseals Crossroads and with the INDATA Project. Josh, do you want to say hi to folks?
Josh Anderson:
Hi, everybody, welcome to the show.
Brian Norton:
Excellent, excellent, for our new listeners just want to take a moment to tell you just how our show works. So we come across feedback and various Assistive Technology related questions throughout the week, we have a variety of ways for you to get us your feedback. And for you to get us your questions. But first would be our listener line. That seems to be the most popular way. But 317-721-7124 is a phone number that you can call and leave us a voicemail. You can also send us an email that's at tech@eastersealscrossroads.org. Or you can send us a tweet with the ATFAQ it's a great way to be able to get a hold of us and let us know if you've got questions. But also, as you listen to our show today, if you have something that you want to contribute or say on behalf of one of the questions that we try to answer today, let us know we'd love to be able to share that on the air.
Brian Norton:
We've got a couple of instances of feedback today that we'll be sharing. And so get a little bit of a sense of what that looks like. But also, if you're looking for our show and you want to share it with others, maybe some of your close friends, relatives or other folks let them know that you can pretty much find our show anywhere. We're on iTunes, Stitcher, Google Play Store, we have our website set up that's atfaqshow.com. And you can really just about find us anywhere you can get a podcast and so keep an eye out for us there love to for you to be able to listen to our show. So without further ado, I just want to take a moment. And we're going to jump into feedback today. And this first bit of feedback is from Tom. So let's go and take a listen.
Tom:
Hi, this is Tom from Rhode Island, New York. Regarding your question, who is the wildcard question about when people do returning to their offices once this Corona problem is taken care of. I think that businesses will probably keep a lot of the people home that are using computers, of course, it depends on the business they're in. But what people pay for a square footage, especially like in New York City is a lot of money and businesses can save a lot of money by having at people work at home. Also, it's better for the environment, less traffic and it's very expensive. Some of the bridges here in New York City cost $12 to cross.
Tom:
And also people forces can save money by not having to send people in airplanes to other parts of the United States, put them up in hotels, pay for their meal don't forget the happy hour and just do it from a Zoom meeting. So I think at least 30% of people that are working from home will still work at home later on. Also, I just heard on the news. I don't know if it's true. That okay, I had to skip that I forgot a little senior moment. But I hope that information is helpful. Take care.
Brian Norton:
Yeah. Thank you, Tom. I think you're probably right on a lot of have different points there. I think you're right square footage cost a lot of money. And for businesses, I think they've figured out how to allow people to work from home and to still be engaged and to be able to get their job done remotely. And so yeah, I think you're right. We had that wildcard question on one of our previous shows. And so thank you, Tom, for giving us a call. And jumping on on that.
Belva Smith:
Yeah. And I just want to say I'm glad to know that we got listeners involved on those wildcard questions as well. And, Tom, one of the things that I've noticed here locally, I live not too far away from a Starbucks. And on a typical Monday through Friday morning, when you would leave to go to work, you would see people wrapped around that building two times. And I've noticed that since March, when we shut down and stuff. You can be out early in the morning and Starbucks might have five or six cars in the parking lot. I think everybody's figuring out how to make their coffee at home.
Brian Norton:
That's so true, right?
Belva Smith:
Yeah.
Josh Anderson:
Yeah. I've noticed traffic's been a lot better except for here in Indiana they decided to main thoroughfare to work, tear it up constantly.
Belva Smith:
Yeah.
Josh Anderson:
So other than that traffic's been really nice.
Brian Norton:
Yeah, I think it's interesting with everybody staying home, I feel like there are more orange barrels, they're just doing a lot more construction on the roads while no one's on the roads. And so yeah, you're right. Getting to and from work is just even more of a hassle these days than in the past two weeks so yeah. Thank you, Tom, thank you for reaching out to us and giving us your feedback on that question. Really appreciate it. All right. So our first question of the day is as a person with different abilities, where should I be focusing on development of my skills? Is knowing how to use Microsoft Office products important?
Belva Smith:
Yeah. Brian, that was a question that I actually got from one of my consumers a couple of weeks ago because she's an adaptive software user, pretty fluent with her computer skills but she's wondering should she be focusing on maybe getting some of the Microsoft Office certifications. Like, for Word or Excel or something like that and I don't know that I would push anyone towards actually getting the certifications, of course, they're nice. I've got them all. But it is very time consuming and I will always, always remember that many months ago when I got hired at Crossroads. I was with Wade one day and I just asked him, I said, "Just curious, since I spent so much time and money on becoming a Microsoft Office certified trainer. How important was that when I came to get this job?" And he was like, "To be honest with you didn't even give it a second thought." So I thought, "Oh, well, that's nice to know."
Belva Smith:
I don't think most employers are going to ask about that kind of a certification. But I do think taking the time to develop your skills in the areas of all of the programs really can be beneficial because I think employers do like to know especially if they've got somebody who might be really talented with any one of the programs that's encouraging because sometimes they just do the basic stuff but then they need somebody who maybe knows how to do a table or something and the rest of the folks in the office won't know. But I also think spending the time to get to know as much as you can about your adaptive software is very important because that's going to make you more flexible to do things when it comes about. And it may not be something that you would do in a typical day, like sending an email attachment but maybe to set up a meeting and invite others.
Belva Smith:
That's something that you can do in Outlook that a lot of people have never done or don't even know that you can do it. So I just think taking some time to get to know … Wait I backtrack there, Tom, I'm with you see you in a moment. I was trying to talk about the adaptive technology. And I went back to the Microsoft Office stuff but just knowing the features that you can do with your adaptive software is very important. And there's lots of ways to do that for free. For example, if you're using JAWS or Fusion, Freedom Scientific has got some great training YouTube videos that are very accessible and they can teach you on how to do certain things with your adaptive software that you may not even know that it can do.
Brian Norton:
I think that's a hard question just because there's so many different products I think back in especially productivity products. So instead of now with Microsoft Office 15 years ago, that's what you used right? Well, now Google Docs and all of these other programs, it really then depends on what your employer is asking the employees to use. And because the way Microsoft Office makes the table is going to be a little bit different than the way Google Docs makes a table or within Mac and their products as well.
Brian Norton:
There's just so many different products out there, as far as the productivity piece is concerned. Getting a Microsoft Office certification or spending a lot of time just in one productivity suite, I don't know, I'm not sure if the employers like you said earlier on Belva I'm not sure it's really gonna matter to them a whole lot about what it can do, I think what does matter to them is that you know it can do it and for you to, I don't know, be a little dangerous if you will with the computer to be able to just get in there and try to figure it out. Knowing that it can and not being afraid of messing anything up? I don't know, that's a good question.
Josh Anderson:
Well then, I have to agree I probably maybe stay away from the certifications and stuff because then you might spend too much time on one thing. But learning keystrokes, learning the keyboard, just knowing where everything is, a lot of those keystrokes go between different programs. So you know, what to save on word is probably the same in Google Docs. And because you don't know when you're going to need it or what you're going to need it for unless you have a specific job and goal in mind, then maybe go ahead and focus on one. But otherwise, you have to learn the keystrokes, learn how to do as much as possible, especially if you're trying to do it for work in school then you'd just have a whole lot more marketable.
Tracy Castillo:
Yeah, I want to echo that I do think it's important as well. Microsoft is billing a ton into their software at this time. And if you don't know how to use it and don't know what's there, you're not going to be able to use it. Did you know that you can caption your PowerPoint slides. In this day, we're all in video mode, everybody's connecting with one another. You can actually help someone read along with your slides if you caption them. Not only will this look good for the person that can't hear you very well, that's now able to read the slides, your cohorts are going to be pretty amazed that you're able to do that, especially if you're the only one in the office that knows how to do it. And wouldn't it be nice to help a lot more people that way.
Tracy Castillo:
And in another thing I like that is built into Microsoft software now that people don't talk about is the Read Aloud function. And if you don't know that, that's there and how helpful it really could be for you. And you're going to lack it, you're not going to get all the benefit out of the Microsoft products. So I like using the Read Aloud products for when I am typing out documents and we all know how hard it is to proofread ourselves, our minds will skip over the places that we actually made the mistakes. But if you're using the Read Aloud product to proofread yourself, that's going to catch where those errors are in your writing. So I'm just thinking that "Yeah, you want to know your office products and then, you'll be able to use them a little better."
Brian Norton:
Yeah, and I would echo that too. I think it's really important for you to be familiar with the Office products, certifications and other things with deep learning that goes along with Office products and knowing how to do every last single feature within Microsoft Office I don't think maybe is all that important but at least be familiar with what it can and can't do. Because I do think that might be important for employers to some level of degree depending on what they use and if that's going to be a part of what your job is going to be about. So, that's really interesting and I do like Josh, I think Belva and Josh you both mentioned that.
Brian Norton:
I may think a lot of folks with different abilities are using Assistive Technology and usually that the better thing to focus in on is how does your Assistive Technology work with those Office products like you've got to know the keystrokes, Josh, I think you've mentioned that. You've got to know how you're going to get access to those things and so. I think that's probably the most important thing as being very familiar if you're using JAWS, which is a screen reader to use Microsoft Office, you need to know how to use JAWS with Microsoft Word and with Microsoft PowerPoint and with Microsoft Excel. So super important to kind of better probably or have a better understanding of the Assistive Technology but also familiarity with Microsoft Office.
Belva Smith:
Yeah. And there are so many keystrokes now between your Windows or iOS commands or whatever. And then your adaptive software that you're using. Freedom Scientific has actually had to come up with what they call their Layered Commands, now. Where you have to do a keystroke before you do the keystroke to let it know what it is you want to do. So I don't think it's important to ever feel like you need to or will know all of the keystrokes for doing anything because you won't but just knowing how to get them when you need them and being aware of the language. So if you are asked by your employer, can you set up a meeting for the library tomorrow at 2:00 p.m.? And then make sure these people are invited that you at least are aware that "Oh, yes, I can do that I might have to look up one or two of the keystrokes but I can do that." And feel confident that you can get it done. I think that's the important thing,
Brian Norton:
Right. Absolutely. Well, I would just love to open this up to our listeners, if you're listening and have anything to contribute to this question. Maybe you're an AT user and you have an opinion on this particular question. We'd love to hear it from you. You can give us a call on our listener line that's 317-721-7124 or send us an email at tech@eastersealscrossroads.org. Love to hear it from you. All right, so our next question is, how can I get rid of the COVID-19 tracker app on my phone? I got to just admit I didn't realize there was a tracker app on there. But this is good to know. So how do you get rid of it?
Belva Smith:
Well, and I gotta let you know, Brian, I also wasn't aware that I had a COVID-19 tracker on my phone. But if you have an iPhone or if you have an Android and you're running the current version of your iOS or operating system, they did sneak in a COVID-19 tracker and it's found under your settings down under General. And on the iPhone 9, I'm not exactly sure that it's called the same thing on the Android. But on the iPhone it is called the exposure notification. And I had no clue it was there either. But one of my consumers had found it there I was like, "I want this off on my phone. I don't want it. I don't want to be being tracked. And how do I get it off of there."
Belva Smith:
And what I found is, though it's there, it's not doing anything. And in fact, if you live in Indiana, like we do, if you decided, "Oh, this is great, I want to use this" and you try to activate it, you're not even going to be able to because it's going to tell you "Sorry, this isn't available in your area." So I think they're planning for the future. I did not find a way to actually remove it but again, it's not doing anything, it's not taking up any of your resources from your phone. It's merely just sitting there, I guess, kind of for possible future use. Because I understand that before it can work, what you will actually have to do is go to the App Store and download a second tracking app to make it actually be able to track. So don't be nervous, it's not doing anything. And if you're excited and want to be able to use it, then I guess be patient. Hopefully, we won't have to worry about tracking it by the time it's able to be used.
Josh Anderson:
Well that'd be nice. So two things. One, for folks that do have this, I don't remember what update it was. But if you read what the update is before you download it, this was the only thing on it. It says "installed COVID-19 tracking app" and it was on a 14.1287 I can't really remember. The interesting thing is your phone's tracking you all the time anyway. If you use location services, WiFi and even Bluetooth it knows where you are. And Belva you were right, you do actually have to opt into the service. Even though it's downloaded. Even if it's available in your area, it doesn't automatically put it in. I can't find a way to get rid of it. But if you're really using anything on your phone, your phone knows where you are and make absolutely just as easily track you. As [crosstalk 00:18:50]
Belva Smith:
[inaudible 00:18:50] as I was about it. I went through the complete process to try to set it up and get it working. But I reached that point where it said, "Oh, you're in Indiana. Sorry, It's not available in your area yet." So-
Brian Norton:
Right
Tracy Castillo:
I thought it was there as well. But it was only turned on if you wanted to use it. And I also like what you said had to get another app for it. Such as I have the Citizens app and they have that tracing available but you have to download another app to have that tracing available. Over the weekend I watched a documentary about COVID and the current ministration blah, blah, blah, I won't get into too much of it. But what I saw that was interesting was in China, they did track people cell phone data to help with that COVID tracing. So that's how they combated it. I don't know if it worked or not I haven't looked at China's numbers.
Tracy Castillo:
But I asked myself, did it impede in people's personal liberties? I mean, I think so. But like you said Belva, you went through all the steps to uninstall it, if you could try another app such as like the Citizens app, I ended up downloading that other portion for the app to make it work. And I was the first one in the area to use it. But that was a few months ago, that was before a lot of things happened. I think there are apps right now that are allowing you to trace yourself if you feel that you need to. But like I said, I was really astounded that China was using it. And if there's people in China that are listening to this right now and want to give us some input on that would be awesome.
Belva Smith:
Well, I think at one point you even had to show something on your phone to be able to get around to travel about publicly in China. But again that's China. I think that what the Android environment and Apple both was just thinking is, they wanted to do something to try to be helpful in this epidemic and they felt like possibly being able to because it's my understanding that if it does work, it's not going to tell me "Oh, Belva, you are near Josh and he's positive for COVID." It's just going to let me know … That's a joke Josh really isn't positive but it isn't going to let you know the personal information, it's just going to let you know that you may have been exposed to someone with it. So are they collecting your personal information and doing that? I don't know. And I can honestly say personally, even if I could use it, I would choose to not use it. Because I think it would just make me more paranoid.
Tracy Castillo:
And I want to go something of what Josh said, even if you're using Google Photos, they're tracking your whereabouts. Oh, [crosstalk 00:22:01] I found on a map from a few years back that mapped all the pictures I had taken. Like, "Oh, I've remembered going there. I didn't know anybody else knew I was there. But okay."
Brian Norton:
Well, I think Apple recently and I think the Android as well. Either way for first off for both of those features that looks like it's a toggle on and off. So it's real simple to turn off. Just in general with location services you can go through every app that you have and turn off your location services if you want. So you don't have to be tracked all the time.
Brian Norton:
It will automatically a lot of times turn that on and for different apps that you installed but you can turn it off, you can just go into your settings and I believe you can find it under locations … I think it's actually an option I need to look at my phone to make sure but under locations you can turn that stuff off where it won't track you as much. I'm not sure it completely shuts it off. I'm never sure if we fully know if it's doing that or not. But know that you can turn that off. And I think in the latest release of Apple didn't they do something with location services where it gives an approximate location, it's not solely tracking you-
Josh Anderson:
Yep you can turn on the approximate service, which I think gives it within a few square blocks or something like that. And you do have to toggle it I believe if you want to use GPS otherwise it's not going to get you there. As far as turn here, turn there and the other thing. And then Brian with that even if you do turn off those, you do need to turn off WiFi as well in order to not be as tracked I guess you would say. They'll still know where you are by cell signals but it's a much more of approximation because it depends of different ones. So if you're really and truly worried about being tracked, don't have a cell phone. It says really truthfully the otherwise.
Belva Smith:
You're 100% right, Josh. And it's in my understanding that moving forward, Apple is going to require all of the app developers to include what information the app is collecting about you such as is it tracking where you are and that kind of stuff. And that information is supposed to be available right there in the App Store before you actually get the app so you can decide whether or not it's something that you really want or if for some reason maybe it's not the right app for you.
Brian Norton:
And hopefully people will actually read that.
Belva Smith:
Yeah.
Brian Norton:
I think some of that's are already in app agreements and other kinds of things. It's like when Facebook and all these other companies have to go before a congress. It's like it's in the boilerplate of the agreement that everybody talks about but then they fully recognize that no one ever reads those anyways. So-
Tracy Castillo:
Wait a minute, I read mine.
Brian Norton:
… read your agreements, please read your agreements to know what the apps are doing because yeah. But I think that would be a little bit a lot more transparent Belva if it was directly there in the App Store and there was a bulleted list of the here are the things that were collecting, make your choice. Do you want to use our app? Or do you not? I think that would be a lot more transparent with that. So you know just offhand too just another safety and security kind of thing that the Apple iPhone just put out as well as they've acknowledged. I don't know if you've looked at your phone and you've seen the orange and blue dots that are at the top of the screen above your time.
Brian Norton:
So that's just telling you if an app is using your camera or app is using your microphone, that was all in an effort to help it be more transparent to let you know, if your phone's listening to you or if it's using your camera and someone can potentially view you using the camera on your phone. So I think all companies are starting to look at that. And I've been listening to the public with all of their outcries about people are hacking into this, that or the other. And what's Amazon doing with my data that my Amazon Echo device is listening to? I think they're trying to become a lot more transparent with what's happening on the phone and help people give them notifications that something's in use at different times. So I just love to open this up to our listeners. If you have any feedback on this particular question, we'd love to hear from you. Give us a call on our listener line that's 317-721-7124 or send us a tweet with the #ATFAQ. Would love to hear from you.
Brian Norton:
All right, so our next question is I use JAWS for computer access and I'm looking to upgrade my productivity software after several years. I'm currently using Microsoft Office 2010, using things like Word, Excel, PowerPoint and outlook. I'm considering upgrading to Office 365 and are moving to Google Docs as my new Productivity Suite. Considering that I'm a JAWS user, which one would be better? If there is one? And maybe you can discuss some of the accessibility features in both suites.
Belva Smith:
Wow, that's a big question. I'm personally, if it were me I would probably choose Office. But I think it's important to know that if you choose Office 365 that you have to make sure that you get the version that allows you to install the apps directly on to your computer so that you're not having to use them from the web. That's very, very, very important.
Brian Norton:
Right.
Belva Smith:
And it can be done. In the beginning people were very, very confused by that. But you just have to make sure that you paid a little bit of extra to make sure that you can do the direct download. And the only reason that I think I would personally choose Office is not because I'm a certified office trainer. But it's because I think more businesses use Office. And then I hesitate to say that, because I cannot tell you how many people we interact with in our world of business that say, "Oh, we use Google Docs."
Brian Norton:
Yeah.
Belva Smith:
That number is growing and growing. But do I feel like JAWS specifically, is as up and ready to run with Google Docs as it is with Microsoft Office? I would say no to that but it's growing. And they're working on it every day. And they're getting better at it. So I think either one is an okay choice. But I think for me personally if I were using JAWS, I would want to stick with Microsoft Office. Because you know Freedom Scientific and Microsoft do work very closely together as I'm sure that they do with Google, too. But they've been working with Office or with Microsoft a lot longer. Their relationship with Google is new because Google Docs is new. How long is Google Docs been around y'all? 10 years? Not that long?
Josh Anderson:
I think give or take?
Belva Smith:
Yeah. And how long is Microsoft Office been around? You know 20 years?
Josh Anderson:
11 years.
Belva Smith:
Yeah, well, no. They've had a little more time to grow and learn to work together. But I don't think either one of them is the wrong choice. And let me say too that if there is something that you need to if there's a task or an activity that needs to be done in Google documents and maybe Microsoft doesn't have the command available yet to make that happen, more than likely Google does. Because the the Google documents, Google Sheets, all that they have a lot of accessibility built right into them. Probably more so than Microsoft. So I don't think either one is a bad choice. That's just my personal choice would be Office.
Brian Norton:
Yeah. I actually looked it up. Google Docs has been around since 2006.
Belva Smith:
Wow.
Brian Norton:
Microsoft Office has been around since 1989. Those are the official releases of software like that. So-
Belva Smith:
Interesting.
Josh Anderson:
Wow, that's great.
Brian Norton:
Yeah. So a lot longer than I would have thought from both cases.
Josh Anderson:
And Belva, I completely agree with you as far as you know, if you're using Office trying to get those native programs as opposed to just having to go online to do it. And also, one thing, if you're using Google Docs or 365 online, the browser you're using can make a huge difference as well on how compatible it is with JAWS. And the only thing I would add is, if you are using an older version of JAWS, make sure it's compatible with the newer versions, just because I know you can run into some issues with that or I've run into some issues with that because you're using too old of a version of JAWS it can't really update anymore. It doesn't work seamlessly, nothing that always works seamlessly but there isn't some major compatibility issues when you get into those newer versions of Office.
Belva Smith:
That's a very good point, Josh and I did not mention that. But let's reiterate that. You need to make sure if you're going to do Office 365, especially that you are running at least I would say nothing lower than JAWS 2019. Because you're going to run into compatibility issues and just features that haven't been adapted to yet. So and along with upgrading your productivity programs, you may also want to make sure that you're running the latest JAWS or at least nothing older than 2019.
Brian Norton:
Right. Hey, I came across something that I thought was pretty interesting. It was Google's own help section. And they had some recommended browsers and screen readers. So within Windows, what they recommend is you use NVDA and JAWS and the browser they recommend you use for the Google Docs is Mozilla Firefox and the Chrome browser. For Mac OS, they recommend using voiceover obviously it's built in but the Chrome browser and then with Chrome, if it's the chrome operating system it's the chrome box, which is their own version of a screen reader using the Chrome browser as well. So I was a little surprised to see on a Mac not to use Safari because that's their own version of a web browser but they ask you to use Chrome. And I guess that's because you're using Google Docs. But Google Docs probably works better within Chrome, obviously and I just thought that was a little bit interesting as well.
Belva Smith:
To my understanding that Edge is going to be operating off of the same sort of a Chromium, Chromium. Am I saying that right?
Brian Norton:
Mm-hmm (affirmative).
Belva Smith:
… background as Google, I don't know if they've actually made that change yet or not. But to me that says that Microsoft has figured out that Chrome's really got it going on. And they were struggling with Edge and accessibility. So hopefully introducing that as their backbone is going to help it be better. I know in the beginning I told my JAWS users no, don't use edge. But I'm now telling my JAWS users yes, don't be afraid of edge. Go ahead and use it. Because most things are accessible. But in the beginning, they weren't and I think everybody knew that there was a lot of problems with edge in the beginning.
Brian Norton:
Excellent. Well, I'll just open this up to our listeners, maybe you've made the switch or maybe have you've made an upgrade in your Office Productivity Suite from Microsoft Office to something new. And you would have anything to contribute to this question. We'd love to hear from you. You can give us a call our listener line that's 317-721-7124 or send us an email at tech@eastersealscrossroads.org, we'd love to hear from you. Thanks.
Brian Norton:
All right, so our next question is Apple just released new MacBooks. And I'm wondering what new accessibility features they might have included in the new release. I'll just mention real quick. I don't believe there's as much accessibility in the new MacBook as you might have had when they released the new iPhone. The new iPhone and the iOS operating system had things like a headphone accommodations, sound accommodations, those kinds of things. Those aren't features found on the Mac and so there's a lot less. So. Any thoughts on that folks?
Tracy Castillo:
I didn't see any new features. I didn't get to download it, it is a rather large upgrade. So I did not download it to my phone yet or my computer just yet. Am afraid telling you here what's going on with it first.
Brian Norton:
Yeah. [crosstalk 00:34:52]
Belva Smith:
Yeah, that's exactly right. And I think you have the most information about the new features. I personally have a Mac at home. And I started my update or upgrade as we started the podcast. So hopefully it goes better than Josh's did. But-
Josh Anderson:
Yes, so-
Belva Smith:
I'll check on it tomorrow.
Josh Anderson:
Yes. So I downloaded kind of Big Sur over the weekend and it got stuck, it got stuck for about eight hours on Saturday, maybe even longer, where it filled up probably 90% of it, it said you have 25 minutes left and the 25 minutes left disappeared and it was just stuck there. But as far as accessibility features, some of its laid out a little bit differently, it's a little bit cleaner, I guess, they change some of the look of things, there is a new control center, that's a lot like on your iPhone or your iPad, if you pull down from the left to the upper right hand corner. Some of that stuff where you can really easily change sound display, WiFi, Bluetooth, some really easy. So, it streamlines some things made them a little bit easier in reading about it. They didn't make some updates to voice control. So it's supposed to work a little bit better. But most it's kind of like Brian said, of those new accessibility features are on the iPhone and iPad.
Josh Anderson:
Now if you do get the new MacBooks and the new MacBook Pro, the Mac mini and I think the air, they offer Apple's new M1 chip, which is going to be something I think Apple is going to start using a little bit more as they get away from Intel and start just making everything in a Mac made by Apple. But it's supposed to be pretty impressive. Accessibility wise, not so much. But it's supposed to be a real powerhouse and able to run tons of things at once. So we'll see. Unfortunately, that didn't get downloaded to my computer when I downloaded the operating system that didn't change the chip. But-
Belva Smith:
Well, I was at the office when Brian was doing the upgrade. And I think you took all the bandwidth out of the building.
Josh Anderson:
So that doesn't take much. I think we're on a metered connection here.
Belva Smith:
Probably.
Brian Norton:
I saw that. I put my quarters in the slot to be able to get my bandwidth. So, no I think you guys are exactly right that they're a whole lot of it. I think they made it a little bit cleaner experience with the operating system, your taskbar or other kinds of things like that. I don't see a whole lot there that makes, maybe as I look at menu systems and dialogues, they seemed to be a little bit more higher contrast. But it goes back to what Josh said, what I'm looking forward to is seeing the actual new MacBook and when they've given you a little bit better access to controls. So right now, when you try to turn on dictation, you got to hit the Fn key twice when I was just again, like Josh and mentioned, it's a button on the computer where you can turn that on and off.
Brian Norton:
And so I'm excited to see some of those things. If you guys are aware of other accessibility features that maybe we didn't mention or weren't sure about, let us know, we'd love to hear about those so that we can share it with the folks who are listening, you can give us a call on your listener line that's 317-721-7124. Or send us a tweet with the #ATFAQ or an email at tech@eastersealscrossroads.org, great ways to be able to send information to us. All right, thanks.
Brian Norton:
Next question is I'm an employment consultant in southern Indiana and I'm looking for a good video modeling app to use with a few of my clients, do you know of any? Or have any preferences. And so I'll just jump into this one. I think it's important for folks who maybe they don't know what video modeling is all about. Basically what it is, it's for folks that are visual learners, it's a way for them to be able to help connect with the information and learn from watching somebody else do a task. So you can teach all sorts of different types of skills. It's used a lot for folks who may be on the autism spectrum or for other disabilities. But essentially, there's been a lot of study done that sometimes by showing someone a video of someone performing a task. There's a lot that can be learned. I mean it's a lot that can be retained over a longer period of time when they're using this type of a training tool with an individual.
Brian Norton:
And a couple of the ones that I know I've used in the past or have recommended in the past. The first one was iModeling. iModeling is something that you can get on the App Store. So I know it's an Apple, I'm not sure if it's available in Google or not. But it's pretty simple to use. It's an app that basically allows you to create videos kind of really anytime, anywhere. Basically, you just record your own footage. And then you can do … I think it's five steps to really create your own video model. So essentially, once you take your footage, you can create a title for what that particular video is about. You can then add in some different images so that if the person wants … Let's say you have five different tasks you can give it an image for a particular type of tasks, so maybe it's a picture of a dishwasher if it's how do you empty the dishwasher or something like that and helping them be able to press a button.
Brian Norton:
And then basically, it'll walk them through that process while you're teaching and talking them through a particular task. And so iModeling is a great one if you can find it again on the App Store, simple, easy to use, something that I've used in the past. And then there's another one called Model Me kids. And what I like about Model Me kids is it's a whole bunch of different areas of a person's life. So it's Model Me Tips and Tricks, Model Me Friendship, so what friendship should look like, with other folks, polling, prevention, organization, motivation, all of those different types of areas that you might want to be able to use video modeling for, they've already created certain types of videos for different things in those different categories.
Brian Norton:
And so if you go a modelmekids.com, it's a great way to be able to just get some already recorded video modeling videos for folks to be able to listen into. So and again they've got all sorts of different categories for you to be able to choose from. And I've seen folks have a lot of success with those, especially if they're doing daily life skills, dealing with relationships and other things. Maybe it's within the school or other places great places. And so Model Me kids and it's videos for modeling social skills. And so again, modelmekids.com would be another great place to go.
Brian Norton:
I know we do job accommodations and obviously we're working a lot with Assistive Technology with folks. I know in the past we used an app that I think was originally called HP Reveal or maybe it was Aurasma. It's either or and then it switched names to the other. But I don't think that's available anymore. Is that correct?
Josh Anderson:
Yeah, they stopped supporting it last year sometime. But yeah, we used it, it was called Aurasma and they switched it to HP Reveal and really it was an advertising app. Yeah, you can hold your phone over a movie poster and the movie trailer would start playing. But it worked great, because you can make your own videos and associate them with anything with a picture or anything. So it was great. Because on a job site, you just put a picture or something hang it by whatever it is that person would need to remember. They hold their phone over with that app open and that video would just start to play. So it was super easy and also free, which was great. But unfortunately, you know with free stuff, they quit supporting it. Want to say about a year ago, maybe even longer. Now. It's really hard to tell them which year on how much time has gone by,
Brian Norton:
Do you know if it's still supported on older operating systems? Or is it completely gone from the App Store? Or you can't get it anymore? It's kind of gone.
Josh Anderson:
You can find it on the App Store. And when you open it you get an apology letter.
Brian Norton:
Oh, okay. Excellent.
Josh Anderson:
Like, "How are you sir we're not gonna support this anymore." kind of thing. So yeah.
Brian Norton:
Right. Like you said, I had a situation where I was using that and it was in a big commercial kitchen. Someone was doing dish washing and he would just have to hold his phone up and just get the dishwasher in the image. And it will automatically would it's like a virtual job, coach the job, coach would jump out from around the other side of the dishwasher and then walk them through the whole process of how to actually operate, load and operate the dishwasher and then put the dishes away once it was done. So super simple app sad to see it go. But again, it's one of those things that was never intended for the purposes that we were using it for. It was, again, all about advertising and so they probably figured out that they weren't getting much bang for their buck and in advertising. And so they got rid of it. But yeah.
Brian Norton:
All right. If you guys know of any other video modeling apps, I'd love to open this up to you, our listeners, please let us know if you guys have other apps you'd like to share with this particular person. Video modeling specific apps would be great. You can give us a call on our listener line. That's 317-721-7124 or send us an email at tech@eastersealscrossroads.org. We'd love to hear from you. Thanks.
Josh Anderson:
And now it's time for the wildcard question.
Brian Norton:
All right, so our next question is our wildcard question. And this is where Belva has a question for us that we haven't had any time to prepare. And we're all waiting anxiously for what that question is going to be. So Belva what do you got for us today? You're muted.
Belva Smith:
Well, hello, there now I'm unmuted. Okay. So this goes back to the feedback that we got earlier from Tom as well as a brief conversation that Josh and I were having this morning. So now that so many different agencies, employers have discovered that they can allow for their employees to be working from home and they still have great productivity. I believe in the long run, it's going to be so much more cost effective to allow people to work from home. What effect do you think that that might have on our clients with disabilities who we know have transportation issues often and require just different things to be able to go into an office environment. But perhaps with just a computer and some software can do their job from home. You think it's going to help the? You think it's going to hurt them?
Brian Norton:
Personally I think a lot of ways it will help people. You mentioned the transportation, transportation is a real challenge. And sometimes I think working from home is an accommodation in some way, shape or form. They don't have to deal with the problems with transportation, they probably save lots of money. They're in an environment that's already friendly to them, it's accessible a lot of times to them. So going to the bathroom, making food and other things. I think the one challenge I would have with working away from the office all the time, is how do you engage and how do you connect with your employees, especially your employee with the disability, having the ability to be around other folks is really important to a lot of folks, it's important to me. We've been working remotely quite a long time and I miss people, I miss the casual conversation in the hallway about what's happening with your family and other things.
Brian Norton:
And so I think from a practical standpoint and from a work standpoint, I think there's a lot of benefits to working from home. But I think relationally I think we lack a little bit with what comes of that about having those casual conversations and feeling connected and engaged with our work and the folks that we work with. So I don't know. Yeah, I think it is a benefit in a lot of ways for folks to be able to work from home. I wish there was a nice happy medium, between working at home and being in the office so we can maintain the relationships and the connection that we have with other folks. But I believe it maybe it's in a combination of a lot of ways just to be able to work from home.
Josh Anderson:
And I have to agree with Brian there too because I know that's been with a lot of folks we worked with. And used to be if somebody said, "You know, I'm trying to look for a job from home or work from home job there were about what three options of places and other than that it was mostly scams." People just try to steal your personal information or your work from home kind of thing. So I think that's going to actually open a lot of doors, especially now that Belva you brought it up that people can still be productive when working from home. They're not just sitting on their couch watching Maui potato chips all day. They're actually getting work done. And maybe they're doing that on their lunch break.
Josh Anderson:
I think maybe having everyone know that that's kind of an availability will open a ton of doors for folks, especially those with transportation issues. Because really all you need is a good internet. And you can do a heck of a lot of jobs just right from home. So my hope is that that part at least stays, especially for folks with disabilities because that's such an easy accommodation. And really, for employers it's a great accommodation too because I don't have to change my environment at all, I don't need to widen doors or change bathrooms or do all this other stuff, when maybe the person's already got their house adapted. So they're there, they're all set, they're ready to go and can work a lot better. Also, for some folks just being able to work from home could be a great accommodation, just not being in a loud work environment can really help some individuals and other things. So I do think that's something we'll still stick around at least in some jobs and careers and hopefully it opens the door for a lot of folks with disabilities to be able to move into those careers.
Tracy Castillo:
Josh, I just want to echo what you said about people looking for jobs that work from home situations. And a couple of our interns were the same way of volunteers. They're looking for something from home and they could not find anything, there was nothing there. It was so looked down upon. But now it's like we're saving money you know not so many people are leaving for work in the morning, we're lowering pollution. So it's seems like it's a better solution for everyone. Plus the business gets to save a little money on the end. Like you said door widening and stuff. But we're sharing the cost now on the internet, right?
Tracy Castillo:
So if you have internet at home, you're , maybe we should look into that during tax time like to deduct your internet costs to this year. But yeah, I like it, I like it, and Brian, what kind of a hybrid model on the work from home stuff we do some things at home and then days that we can work we work at the office. I try to make sure that if I'm going to go to the office I have all office work there. And that way, if I have a lot of meetings I just try to set all the meetings on a day that I'm going to be at my office at home. You know, my pets are happier too. So I know that that was one thing that we always talked about in the beginning where people's animals and how they were behaving or behaving differently. When we were allowed to go back to work, I tell you my little dogs separation anxiety got a little worse, but he's got me on Mondays.
Belva Smith:
I think, I've had quite a few clients that have found good legitimate jobs that they can do from home now that six, eight months ago, they would have been required to go into an office somewhere, perhaps being a room full of other people, which can be intimidating for some folks. But now with like you said, Tracy just having an internet connection and a computer. And of course, their adaptive software they're able to do the job from home just fine. The one downfall that I've recently experienced with one of my consumers who got a job working from home, that would not have been a work from home job in the past IT because in the office environment, it's usually just a quick phone call and you've got somebody right there in the office to help you take care of your IT problems.
Belva Smith:
In her situation, it's still good and it's still very doable. But she did have to place a call and then wait for them to call her back, which caused a little bit of downtime for her to be able to move forward. But the good news is they were able to remote in and take care of the problem pretty quickly. So I'm not sure that that was that big of a deal. But I do think in my opinion, I think it has opened the doors for a lot of our clients with different abilities to be able to do real jobs from home and not have to worry about being scammed. Because I know in the past, there have been so many work from home jobs that were true scams and very few real work from home type jobs. So I think it's a good thing for him.
Brian Norton:
Absolutely, absolutely. Great question Belva. Hey, I just wanted to open it up to our listeners if you guys have any feedback on this or any, any thoughts on remote work and is it an accommodation? Is it beneficial? Looking for jobs and employment and those types of things. Let us know we'd love to hear from you. Give us a call on our listener line. That's 317-721-7124 or send us an email at tech@eastersealscrossroads.org would love to hear from you want to say thank you to Belva, Tracy and Josh today. Thank you guys for being a part of the show. Just want to give you guys an opportunity to say goodbye to folks. Josh, I'll start with you.
Josh Anderson:
Thanks everybody for listening. Hope to see you back here next time.
Brian Norton:
All right, Tracy,
Tracy Castillo:
Thank you so much for downloading our show and listening to it.
Brian Norton:
And Belva.
Belva Smith:
Keep listening everybody. See you again soon.
Brian Norton:
All right. Thanks so much, guys. Have a great week. Take care. Bye bye.
Josh Anderson:
And it seems like every week we have at least one blooper, so here you go.
Belva Smith:
Mm-hmm (affirmative).
Brian Norton:
All right.
Belva Smith:
Yep. Mm-hmm (affirmative).
Brian Norton:
All right.
Belva Smith:
Yep.
Josh Anderson:
Belva it looks like you murdered a snowman behind you. Just his head.
Belva Smith:
You guys can see me changing my face.
Brian Norton:
[crosstalk 00:53:38] Yeah.
Belva Smith:
Oh, I didn't know that.
Josh Anderson:
What did mom do?
Belva Smith:
Why is Brian, [inaudible 00:53:48] me?
Josh Anderson:
[inaudible 00:53:49] Make sure I have a timer app open to make sure I don't ramble on,
Brian Norton:
I'll be doing this thing.
Josh Anderson:
Information provided on Assistive Technology FAQ does not constitute a product endorsement. Our comments are not intended as recommendations nor is our show evaluative in nature. Assistive Technology FAQ is hosted and produced by Brian Norton gets editorial help by Josh Anderson and Belva Smith, and received support from Easterseals Crossroads and the INDATA Project. ATFAQ is a proud member of the accessibility channel. Find more of our shows at www.accessabilitychannel.com.