Cleaning and sanitizing your CPAP equipment can be very tedious and sometimes it's impossible to sanitize it all.  The Paptizer UVC LED Smart Sanitizer by Liviliti is an "easy and quick method" to clean your CPAP without any chemicals or odors.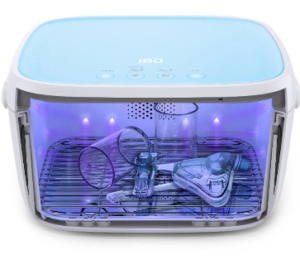 The Paptizer reproduces UV-C light in the range of 260nm to 280nm using 40 high-power LEDs.  The device can also reduce unpleasant smells by decomposing the molecular structure of the odor.  "In as little as 3 minutes you can sanitize CPAP equipment and everyday items at the press of a button!"
That's right, in addition to sanitizing CPAP equipment, you can sanitize everyday items like surgical masks, cellphones, pacifiers, hearing aids, dentures, makeup brushes, jewelry, keys, credit cards — pretty much whatever fits inside the box.
Overview of the Paptizer UVC LED Smart Sanitizer:
Industry-leading quick three-minute disinfection time
Auto shut-off when the product completes its cycle
Items are immediately ready to use after cleaning with no downtime
Sterile Storage allows you to secure a product for up to 24 hours
10,000 hour long-lasting Platinum LED Beads
Two-year warranty
Safe and easy for anyone to use
No ozone, mercury, chemicals, or residue
Can disinfect a multitude of everyday items
Compact, portable, affordable
What's included:
1 Liviliti Health Products Paptizer Smart CPAP Sanitizer
Stainless steel mounting rack
Power adapter
User Manual
SGS Test Reports
30-day risk-free trial
2-year warranty
Click here to learn more about this Smart Sanitizer!