Last week I wrote about the PhoneSoap Pro, a device that sanitizes your phone and accessories.  The same company also offers AirSoap, a solution that kills bacteria and viruses in the air.
AirSoap is a revolutionary new air purifier technology that kills and captures even the smallest viruses HEPA filters can't.  Unlike other air purifiers available on the market, AirSoap kills bacteria and viruses using electricity (instead of filters.)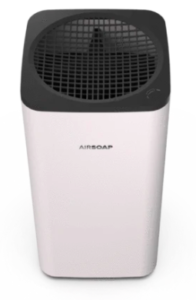 AirSoap's Electric Wind Technology generates a "high-energy plasma field that kills bacteria and viruses and polarizes airborne particles."  The bacteria are then collected in a filterless graphene system, resulting in air that is "cleaner and healthier" than what traditional filter-based air purifiers can provide.
Here's more information:
Traditional air purifiers use HEPA filters which can only capture particles down to 300nm.  This poses an issue because some viruses, like Coronaviruses (CoV-2-120nm) and Influenza (Influenza A 80-120nm) are too small for the filter to capture.  AirSoap's Electric Wind Technology can capture particles as small as 14nm!
HEPA filters trap pollutants and if they are not replaced regularly, they can cause additional pollution in the home from bacteria and mold growing in the filters themselves.  AirSoap's earth-friendly technology uses washable, reusable, graphene collecting plates to more effectively clean the air while saving you thousands.
*Note from developer: "While AirSoap has been certified to capture particles down to 14nm, we have not performed testing specifically on SARS-COV-2 (the pathogen responsible for COVID-19) as it is not yet available for testing. However, AirSoap HAS been tested and proven to kill >99.99% of an even smaller virus (Influenza A-H3N2)."
Overview of AirSoap:
Kills and captures even the smallest viruses that HEPA filters can't
No more costly replacement filters – ever!
Washable collecting plates save money and the planet
Electric Wind Technology is extremely energy-efficient, using electricity to capture germs instead of trying to force air through a filter
This system allows for increased airflow while spinning the fan slower and quieter than comparable filter systems
Uses up to half as much energy to process the same amount of air
Dimensions:

Height: 21.06″
Width: 10.25″
Deep: 10.6″
Click here to learn more about AirSoap!