If you're in a wheelchair and looking for a way to wash your hair from the convenience of your own wheelchair, check out the Height Adjustable Portable Shampoo Basin!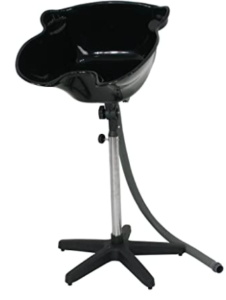 The Height Adjustable Shampoo Basin makes washing your hair from your chair possible.  The basin can accommodate reclining chairs or standard chairs.
According to its description on Amazon:
"This extra-large capacity bowl is lightweight and ergonomical and is also very stylish.  It's easy-to-clean and comes with all accessories and fixtures."
The basin is made of durable ABS composite with a rolled edge for comfort.
Other Features of the Height Adjustable Shampoo Basin Include:
Comfortably shampoo your hair from your wheelchair with this height and angle adjustable portable sink
The height is adjustable from 37″ to 54″
Comes with a rubber plug stopper that fits the drain opening at the bottom of the basin
The stain-resistant bowl is made from durable ABS composite and stainless steel pipe
You can permanently install this sink or leave it portable
For travel use, simply supply a water source such as a water pitcher or hose

Drain the basin into a bucket or somewhere else

Bowl size: 19″ x 15″-20″ x 10″(L x W x H)
Black coated gloss finish
Made of plastic that is resistant to stains
Click here to learn more about this portable sink!