If you're in the market for a new security system, check out the SimpliSafe Security System!  The SimpliSafe Security System offers full home protection.
According to its website, the security system can "protect every window, room, and door.  Against intruders, fires, water damage, medical emergencies, and more.  All monitored 24/7 by professionals ready to dispatch police."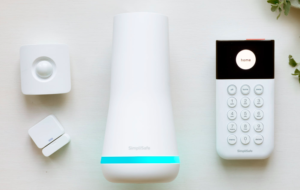 Unlike other security systems that can take a while to install and/or require professional installation, SimpliSafe can be set up in just a few minutes.  No drilling or tools necessary!  Simply plug in your Base Station to begin.
The Base Station is the brains of the whole system.  If one sensor or camera detects danger, it sends a signal to the Base Station, which sounds a siren to notify you immediately.
You can personalize the SimpliSafe System to your particular needs.  You can start with the Keypad and Base Station and add on whatever you need!  Here are the options you have to choose from:
SimpliSafe Security System Options:
Burglary Sensors:
Entry Sensor: Protects doors and windows; works with any door or window
Motion Sensor: Covers and entire room; get at least one for a main room or hallway
SimpliCam: See what's happening at home anytime from your phone, tablet, or computer; it'll forward alerts to you if the camera detects motion
Panic Button: If you're home during an intrusion, press this to immediately trigger your alarm and dispatch police
Glassbreak Sensor: Picks up the sound of smashed windows
Hazard Sensors:
Smoke Detector: Triggers when a fire's still smoldering—before a full fire breaks out

Loud system-wide sirens can jolt you awake

Carbon Monoxide Sensor: You can't see, smell, or detect this deadly gas, but this sensor does!
Water Sensor: Detects leaks and potential floods, so you can stop water damage before it happens
Temperature Sensor: Triggers if your home's temperature drops below 41ºF so you can stop pipes from freezing and bursting
Optional Add-Ons:
Extra 105dB Siren: "About as loud as a Led Zeppelin concert in 1972"
Keypad: An additional Keypad can be purchased for garage door entrances, back doors, or upper levels of your home; no power necessary!
Key Fob: Works similarly to your car's key fob; simply press a button and your system will disarm before you enter your house
Click here to learn more about this system!
SimpliSafe Smart Lock
Did you know a majority of break-ins happen through an unlocked entry?  In addition to its security system, the company also offers the SimpliSafe Smart Lock.  This door lock will make sure your door is always locked—even if you forget!
It will automatically lock any minute you arm your system.  It can also be set on a timer.
Features of SimpliSafe Smart Lock:
Locks the door when you don't
If someone enters the wrong PIN five times, the lock will notify you

After 15 failed attempts, it automatically locks your house for 30 minutes
If you have the monitoring security plan, they'll call you immediately and dispatch police if there's a break-in

Get alerts whenever anyone locks or unlocks your door so you know when the kids come home from school etc.
No key necessary!  Simply lock/unlock the door using the PIN pad, Key Fob, or your phone
You can also sync your system with Amazon Alexa or Google Assistant so you can control it with your voice, too!
Works with your current lock and key
Install over almost any deadbolt with just a screwdriver

Get it up and running in an hour or less; no drilling necessary
Click here to learn more about the Smart Lock!