Anytime I go out to eat or even when I am doing my makeup, I make a bib out of napkins or towels to cover my shirt.  Individuals with or without disabilities may drop food or spill liquid on their shirts at some point.  I have seen many people create their own bibs at restaurants to prevent stains.  If you are looking for a waterproof bib, check out the Adult Bibs from Vive Health!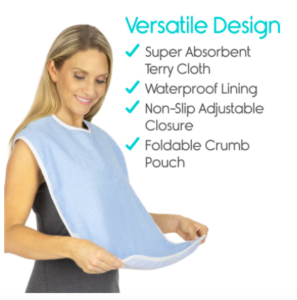 Vive Health's Adult Bibs are "generously sized" at 18 inches wide and 30 inches long for optimal coverage.  It's made of super-absorbent terry cloth.  The back of the bib features a waterproof lining to "ensure liquids do not soak through to scald or stain clothing."
The bib also has an adjustable neck strap so it can accommodate most neck sizes.  According to Vive Health, its "comfortable, adjustable neck fastener is easy to secure and remove."
Another neat feature is the bib's optional crumb catcher pouch.  If you're like me, your lap is also a magnet for crumbs.  The bibs include small fasteners used to create a crumb catcher pouch, to minimize the mess left on the floor or your lap!
Overview of Adult Bibs from Vive Health:
These terry cloth bibs are super absorbent protecting clothing from spills and splashes
The bib's backside is lined with a waterproof liner to ensure liquids do not soak through to scald or stain clothing
The bib measures 18″ wide and 30″ long for optimal coverage
Adjustable neck strap accommodates most neck sizes

The fastening strap makes the bib easy to put on and take off while keeping the lightweight bib securely in place without shifting and sliding to reduce irritation

Optional crumb catcher pouch helps minimize messes on your lap and/or floor
Machine washable so you can easily clean and reuse the bib

Machine wash with mild detergent and tumble dry low

Comes in a 2-pack or 6-pack
60-day guarantee
Comes in a light blue color
Click here to learn more about Vive Health's Adult Bibs!