There are so many subscription boxes available for individuals of all ages and backgrounds.  If you're looking for a fun subscription box for your kiddo with (or without) special needs, there are several available options!
Children's subscription boxes are a wonderful way to keep little hands and minds busy.  There are boxes full of educational toys, activities, etc.
3 Subscription Boxes for Kids with Special Needs:
The following list is only a sample of available subscriptions.  There are far too many to fit in one blog.
1. Skootle Box:
The Skootle Box comes with "carefully chosen" activities.  Each box comes with guided therapy instructions on how to use the activities with your child and what skills it's working on.
Skootle Box Features:
For children in pre-school and up
Each box comes with a variety of activities from famous toy brains that are chosen by occupational therapists
Key skills children work on:

Fine motor: activities that focus on pre-printing and printing skills such as pinching, gripping, and finger movements
Sensory: activities that focus on helping children self-regulate with calming and stimulating activities
Strength: activities focus on building muscles necessary to hold objects and stabilize joints
Coordination: activities that focus on using both hands at the same time

Monthly subscription box
Click here to learn more!
2. Mama May I Explore:
There are countless benefits of sensory play.  Sensory bins are a great way for children to explore their world through their senses.  Mama May I Explore offers a new sensory bin every month!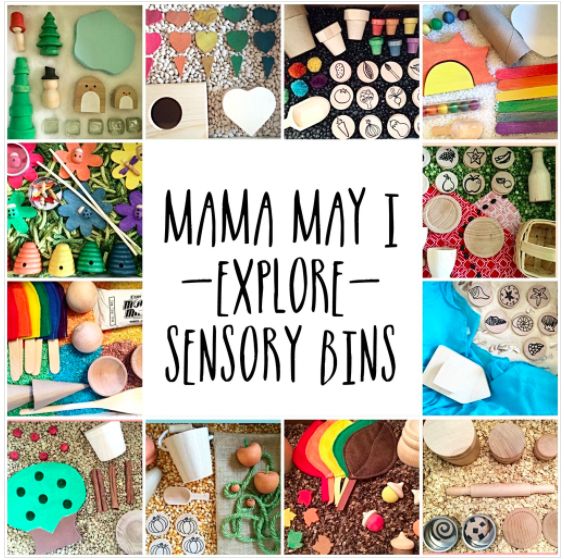 Mama May I Explore Features:
Seasonally appropriate play activities allow little ones to learn about changes in their world
According to the subscription box's description, "Sensory bins are the perfect pairing of learning through play with hidden lessons in volume, physics, experimentation, science, fine motor skill-building, imaginative play, counting, sorting, organizing, and categorizing"
The boxes are self-contained so you can keep them easily cataloged and accessible for a play-and-learn time at home or take them on the go!
The first kit comes with a durable wooden box or container which can be used for the subsequent kits
Click here to learn more about Mama May I Explore boxes!
3. Spectrum Surprise:
Spectrum Surprise offers toys, tools, and sensory play for individuals with autism.  The items are selected with your child's sensory needs in mind.  There are visually stimulating items, fidgets, scented objects, noisemakers, and of course plenty of tactile fun.
Spectrum Surprise Features:
Each box comes with 5-6 sensory toys/autism tools, an autism awareness item, a visual aid, and a travel sensory kit
The box's sensory toys help increase your child's concentration, calm them during meltdowns, keep them occupied during waiting periods, all while fulfilling their desire for sensory input
They offer 50 downloadable calming strategies for free
Click here to learn more about Spectrum Surprise!