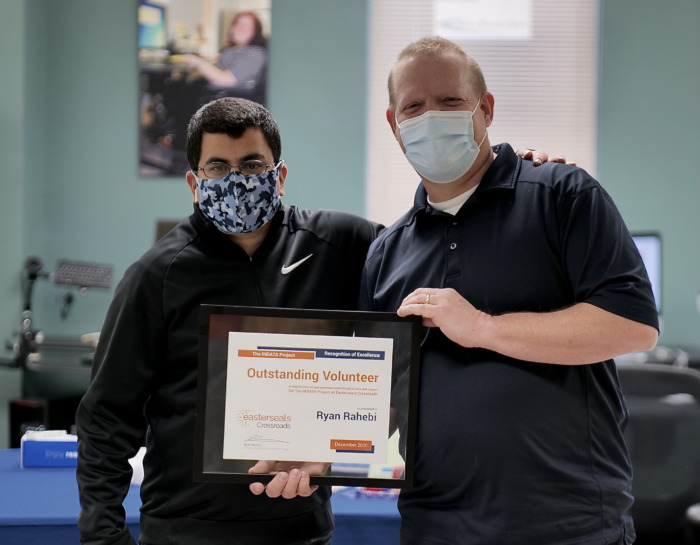 It is with great pleasure that we recognize our 2020 Outstanding Volunteer of the Year, Ryan Rahebi. Ryan has volunteered in our Equipment Reutilization program for 2 years and we wanted to recognize the exceptional work he has been doing throughout those years.
The Equipment Reutilization program (The Depot) is one of the INDATA Project's core services. Through this program, we accept donated computers, CCTVs, video magnifiers and other assistive technology devices. These items are then sanitized, repaired and given to individuals with disabilities in Indiana for free. The depot relies on volunteers, like Ryan, to assist in the refurbishing of the donated computers so we can get them out as quickly as possible and into the hands of people with disabilities who could not afford them any other way.
Ryan was born in Indianapolis, IN.  He went to school at MOSAICS in Carmel and also took classes at J. Everett Light Career Center in Indianapolis. He then attended Ivy Tech Community College. It was at Ivy Tech where he learned many IT skills an obtained his A+ certification.
Ryan has Asperger's syndrome and is hard of hearing. Asperger's syndrome is a condition on the autism spectrum that is characterized by having difficulty in social interactions. Ryan indicated that his "biggest hurdle is social behaviors" and this made finding employment difficult. Due to having a hard time finding a job, he sought employment services through Easterseals Crossroads. While Ryan was working with the employment division of Easterseals Crossroads, he learned about our volunteer opportunities. Ryan decided to volunteer so he could get some real-life work experience to put on his resume and to have the ability to work on his social skills. Ryan said, "Volunteering in The Depot was a good fit for me because it appealed to my interest of working on computers." As a volunteer, he was responsible for diagnosing and repairing problems with laptops and desktop computers.
When Alvin Alviar, INDATA ReUse Coordinator, was needed part-time in Easterseals Crossroads IT department and had to divide his time between IT and The Depot there was a need to fill a part-time position to cover his absence. Ryan was recommended to fill that role and was offered a temporary position as a ReUse technician. He began that paid position in January 2021. He continued to diagnose and repair computers, but also added to his duties giving away computers and giving demonstrations of the basic computer functions and Microsoft accessibility features to individuals who receive a computer. He also provides technical support to those who have received a computer.
Ryan has excelled in his new role and has proven to be very patient in providing computer demonstrations and technical support. One consumer said, "He was excellent, upbeat, and brightened my day."
In December 2020, Ryan was awarded the 2020 Volunteer of the Year award for his dedication and hard work as a volunteer in The Depot. Alvin Alviar, Equipment ReUse Coordinator said, "Ryan is very technically inclined and has amassed a wealth of knowledge. He has been an anchor for technical information. He never declines any task we assign him, no matter how mundane or complicated. Ryan's best asset is his patience in teaching and talking to others. He is a natural at helping others. He has an innate ability to distill complex ideas and explain them in easy to digest morsels for our consumers." All of his hard work as a volunteer led him to obtaining his current position and we are thankful for his diligence in this role.
Thank you for all you do, Ryan! You were an outstanding volunteer and an asset to our team!