Looking for a way to keep your little one's mind and hands busy?  Check out the Busy Fingers Tangram Gel Puzzle from Fun and Function!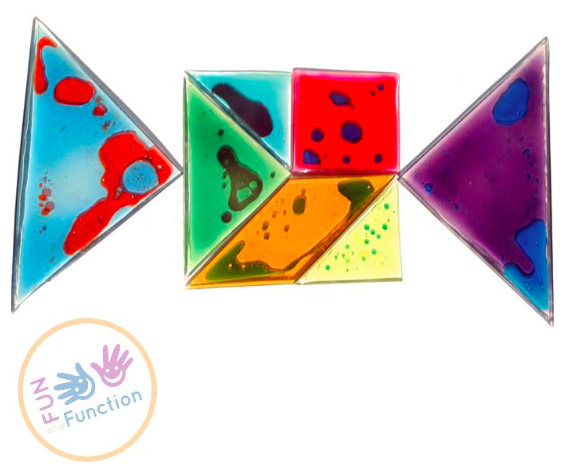 If you're unfamiliar with Fun and Function, the company was "born of the desire for change."  Here's more about the company:
"We started Fun and Function because we couldn't find kid-friendly sensory tools that would fit our family's needs. So we channeled our frustration and turned it into a passion for creating the best sensory toys and tools on the planet.

All of my expertise as an occupational therapist goes into each part of this company and our products. Improving the lives of kids with special needs is our driving mission."
The company's Busy Fingers Tangram Gel Puzzle is essentially a squishy puzzle!  It doubles as a fidget to keep both minds and fingers busy.  Simply squish and squeeze the seven colorful gel-filled classic tangram shapes, while trying to form a square.  The puzzle also comes with designs for users to try to replicate with the gel pieces.
Overview of the Busy Fingers Tangram Gel Puzzle:
Tangram puzzle that is fun to squish and squeeze
Keeps both minds and fingers busy
Features seven colorful classic tangram shapes made of gel
Try to form a square with all seven pieces or try to replicate one of the designs it comes with
"Terrific tool" for enhancing focus, attention, and fine motor coordination
Use to develop hand-eye coordination, dexterity, and finger strength
Made of PVC and filled with mineral oil and coloring
Never heat or cool