Are you looking to transform your ordinary deadbolt into a smart lock?  Check out the all-new August Wi-Fi Smart Lock!  With August's new Wi-Fi Smart Lock, you'll be able to remotely lock or unlock the door, check door status, and more!
One unique feature about this lock is that it has built-in Wi-Fi, which means the lock requires no additional bridge to connect.  (Many smart locks on the market are often pricey on their own and require you to purchase an additional hub to be able to control it remotely.)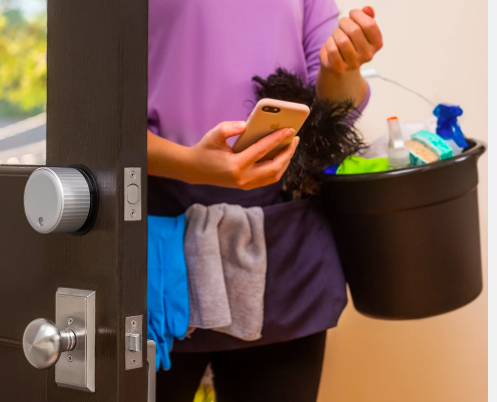 The August Wi-Fi Smart Lock gives you full voice and remote access functionality "without the fuss."  Its intuitive design attaches right to the existing lock on the inside of your door — so you can continue using your existing keys.  With this smart lock, your phone or Apple Watch is your key!
Here's more from August:
"At August, our mission is to make our customers' lives simpler and more secure. We believe data privacy and security is just as important as the physical security of your home.  From data encryption to mandatory two-factor authentication and securing your lock – we've got your back."
Overview of the August Wi-Fi Smart Lock:
Compact design, sleek style
Because of its built-in Wi-Fi, you'll be able to control your smart lock with your voice and/or your smartphone!

You can also access your door with your original keys, August Keypad, and even your Apple Watch!

Auto-Lock feature automatically secures your door once it closes or after a certain amount of time (up to 30 minutes)

This feature helps give you peace-of-mind so you never have to worry if you locked the door or not!

Additionally, it also has an Auto-Unlock feature:

The lock knows whenever you have returned home through geo-fencing and automatically unlocks the door lock!

You'll never have to pull out your phone or fumble for your keys when your hands are full!

You can view exactly what time guests and loved ones enter and leave your home with smart alerts
DoorSense is a sensor that tells you whether your door is securely closed and locked for worry-free living
If you lost your phone, you can quickly and easily disable your August app and all virtual keys at any time on any of your devices by visiting https://lostphone.august.com/
Enable your smartphone's fingerprint or facial verification for unlocking/locking your door
Installation takes less than 10 minutes:

Simply install on the inside of your door over your existing deadbolt!
Check compatibility by clicking here
To learn more about the August Wi-Fi Smart Lock, click here.