I wrote about the PhoneSoap Pro just a few months ago.  If you're unfamiliar, it is a unit you put your smartphone in to sanitize it.  If you're looking for a way to sanitize larger items like your tablet, remotes, and more – check out the company's HomeSoap!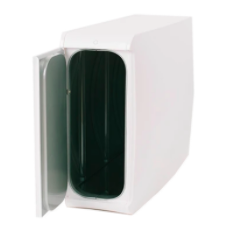 HomeSoap is a new, larger unit built to sanitize tablets and smaller home items like toys, remotes, bottles, and more.  It utilizes UV-C light technology to sanitize whatever fits inside!  UV-C lights inside the device kill germs without harmful heat, making it safe and effective.
Here's more information about the science and history behind UV-C light technology:
"UV light has three wavelength categories: UV-A, UV-B, and UV-C. UV-C light is a short-wavelength, ultraviolet light that breaks apart germ DNA, leaving it unable to function or reproduce. In other words, UV-C light is germicidal (UV-A and UV-B light are not). UV-C can even neutralize 'superbugs' that have developed a resistance to antibiotics.

UV-C that causes this germicidal effect is rare on Earth as our atmosphere blocks it. This light is harmful to our eyes, hence why it must be done within HomeSoap's controlled environment. You will never see the UV light that is killing all those germs, but an external blue indicator on the device will let you know when your device is being sanitized. With powerful UV-C light inside, HomeSoap has a deadly effect on microorganisms such as pathogens, viruses, bacteria, and others."
The unit has 27 times the sanitizing space of the original PhoneSoap so you can disinfect anything.  From toys, pacifiers, bottles, and books, to tablets, remotes, headphones, and more!
Overview of HomeSoap:
UV sanitizer that kills 99.9% of germs
Safely sanitizes anything that fits inside
Big enough for the Apple iPad Pro, and other large tablets
Works on any items – from utensils to books to a Nintendo Switch
Two built-in 2.4A USB charging ports (1 USB and 1 USB-C) allow for universal charging
A glowing lightning bolt indicates when your device is being sanitized
The button on top of the device allows you to turn off your lights with the touch of your finger; it also allows you to switch your device between Auto & Manual modes
Inner dimensions:

93.04mm wide x 234.61mm tall x 334.74mm long

Sanitizing takes 10 minutes
Click here to learn more!
To view our Tech Tip on the PhoneSoap 3 device, click here.