Individuals with hearing impairments might not be able to hear their cell phone ringing.  The Medallion Cell Phone Transmitter from Silent Call Communications is a great accessory so you never miss a call again!
Here's more about the company:
"Established in 1985 and headquartered in Waterford, Michigan, the Silent Call family includes men and women focused on innovation, who are devoted to quality and committed to your complete satisfaction.

Silent Call products are manufactured in the U.S.A. to the highest industry standards. We offer kits that deliver convenience and cost savings, as well as accessories for increased ease and performance…"
Simply connect their Medallion Cell Phone Transmitter to your phone to receive alerts — when your cell vibrates, the transmitter will light up with a red light and send a signal to your Medallion receiver.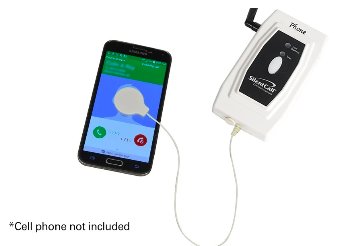 Overview of the Medallion Cell Phone Transmitter:
Transmitter signals incoming cell phone alerts whenever it detects vibrations from your cell
Easy to install and connects in seconds
Requires 2 AA batteries (transmitter comes with 2 AA batteries)
Range: up to 500 feet, depending on conditions or receiver used
Simply lay the disc on the cell phone to monitor incoming alerts
Includes a low-battery indicator light
Features the Silent Call 5-Year Limited Warranty
Operates with technology designed for apartments, condos, dorms, hotels, and public housing to ensure you never get false alarms from neighbors using other RF-based products; also ideal for use in single-family homes
Works with all Medallion Series Receivers
Click here to learn more!