TinkerTech Labs is a company on a mission to "design and build accessible, inclusive, and innovative technology solutions for people with disabilities."  Their flagship product is TranscribeGlass, which is a comfortable wearable device for individuals with hearing impairments.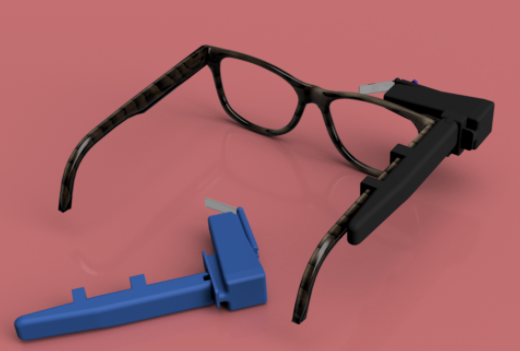 TranscribeGlass shows real-time closed captions from any source on a transparent display in your field of vision.  They provide captions for real-life conversations as well as entertainment (e.g. movies).  To use, simply snap onto your everyday glasses (you can also use any empty frames!)
The company was founded by Madhav Lavakare, a 19-year-old from India.  He wrote a guest post on Assistive Technology Blog explaining the inspiration behind the revolutionary device:
"Three years ago, when I was in my junior year of high school, one of my friends with hearing loss suddenly dropped out of school. When I asked him why he dropped out, he told me that he had severe hearing loss and couldn't understand what was being taught, and also couldn't understand the conversations around him. I asked him about hearing aids or cochlear implants, but he said those were way too expensive, not to mention invasive. I started looking at closed captions and speech-to-text transcription apps. The Live Transcribe app had not yet been created at that time, but other apps like Otter existed. So I asked my friend why he couldn't use a speech-to-text app. He said that it was virtually impossible for him to understand what was being taught when he had to constantly look down and back up between a phone screen and the speaker.

Through further reading and research, here's what I came to understand. Hearing aids and cochlear implants are expensive and unaffordable for many deaf/HoH people, especially in developing countries like India…"
Additionally, smart glasses are also expensive and can be heavy and uncomfortable.  Many live captioning technologies available are displayed on mobile devices or screens you have to look down at.  Having to look down at a screen can make you miss out on many important aspects of communication (e.g. lip-reading, hand gestures, facial expressions, etc.)
TranscribeGlass also has a companion mobile app available for Android phones.  TranscribeGlass uses a heads-up display via Bluetooth Low Energy and sends captions to your phone in addition to providing captions on your glasses.
Overview of TranscribeGlass:
An affordable and comfortable wearable device for individuals who are deaf or hard of hearing

Costs $55
Target weight under 30g/1oz

Snaps onto your existing eyewear and projects captions in realtime
Supports any language that Google's speech-to-text supports (any language using Roman/Latin alphabets)
Connect to your favorite speech-to-text software or live captioning source
You can adjust the caption position on your glasses

You'll also be able to change caption font size

Completely hands-free

Keep your phone in your pocket or purse; no distractions on the move

Full-day battery life
Bluetooth 5.0 (low energy)
The company is launching an early Beta version of TranscribeGlass by this summer.  Click here to learn more about this revolutionary device!