Finding an accessible TV tray can be challenging; traditional foldable TV trays often don't work with a majority of wheelchairs due to their awkward crossbars.  If you're looking for a wheelchair-accessible TV tray, check out the Table-Mate V TV Tray.
Table-Mate is a company with over 25 years of "trust and innovation."   The inventor behind their trays, Doug Soper, envisioned a line of "portable tables that could adjust to make life more comfortable for everyone, especially individuals with mobility impairments."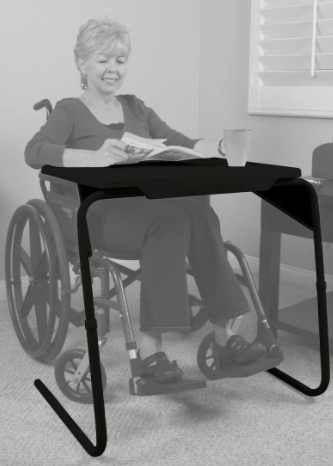 Table-Mate is the original TV tray reimagined; it is portable, lightweight, and adjustable to multiple heights and angles.  Here's more information:
"Unlike its rigid predecessor, the Table-Mate V TV Tray easily slides to you delivering equal parts comfort and convenience to millions of happy, loyal customers around the world, including individuals with mobility impairments and those aging in place."
The Table-Mate V model is the company's largest tray available.  It features an extra 5 inches of width and depth on the flat surface, so you can enjoy meals without worrying about accidents or spills.  The extra-wide base allows it to comfortably straddle wheelchairs or recliners while the top adjusts to three different tilt angles.
Overview of the Table-Mate V TV Tray:
This model is the company's widest tray available:

Tabletop measures: 20″ by 25″
Legs width: 28.5″
Adjustable height: 22.5″ to 29.5″

Extra-wide base comfortable slides around wheelchairs and recliners
40-pound weight capacity with a top designed to flex slightly when there is a bunch of weight on top
Food-rated polypropylene top has a lip around the edge to catch spills or keep items from falling
Open base allows users to stretch their legs without hitting the table – no awkward crossbars in the way!
The folding table is fully adjustable to six different heights and three angles to seamlessly adapt to multiple activities throughout the day as a sturdy work-from-home desk to a TV table for dinner etc.
Easy to assemble and store: NO TOOLS NECESSARY

When not in use, simply fold it and store it next to or under the couch, in a closet, etc.
Check it out on Amazon to learn more!