The Instant Pot is a best-selling multicooker that allows users to cook meats, soups, vegetables, rice, and more — up to 70% faster than traditional cooking methods.  While there are several models available, I wanted to highlight their Instant Pot Duo Evo Plus model first.
According to Instant Pot's website:
"The Instant Pot Duo Evo Plus is a 10-in-1 electric pressure cooker, capable of replacing your traditional pressure cooker, slow cooker, steamer, sauté pan, rice cooker, yogurt maker, cake maker, sterilizer, and food warmer. It also features a new inner pot that is compatible with electric, ceramic, gas or induction stovetops, so it can replace your old stock pot too!"
The Duo Evo Plus model is their "most innovative" one available.  This newer pressure cooker introduces a "whole host of newness."  First, the new pressure cooker lid automatically seals when in place; simply listen for the jingle and go and relax.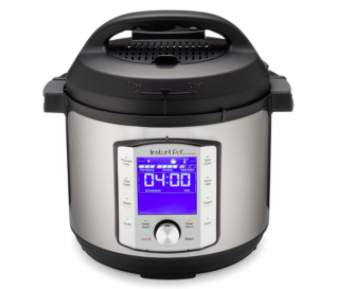 Other features of this newer model include:
QuickCool technology, together with the QuickCool Tray, allows you to release pressure naturally up to 50% faster so you can start eating sooner
New flat bottom stovetop friendly inner pot is ideal for sautéing, and the 2 easy-grip handles ensure you can safely move it between appliances
Addition of sous vide takes your "culinary skills to the next level and lets you impress your guests with one of the hottest new cooking trends"
How to use the Instant Pot Duo Evo Plus:
This model boasts a large LCD display which provides everything you need to know about cooking time, temperature, pressure, and status.  Push buttons allow you to choose a Smart Program to suit your needs.
When it's time to start cooking:
Simply press a button to select a Smart Program
Turn the simple center dial to choose from one of 48 preset options or customize your preferred time and temperature
Press Start
Instant Pot Duo Evo Plus Safety:
Cooking can be dangerous for anyone, but it is especially dangerous for individuals with disabilities.  This particular model has 10+ proven safety mechanisms built into it:
Anti-Block Shield: A stainless steel cover which prevents food particle from entering the steam release pipe, reducing the risk of blockages
Steam Release: Releases excess pressure by venting steam through the steam release valve/handle
Lid Position Detection: If the lid is not in a safe position for pressure cooking, the cooker will not allow cooking to begin
Automatic Temperature Control: Regulates heating to ensure the inner pot remains within a safe temperature range, based on the program
Safety Lid Lock: When cooker is pressurized, the lid will automatially lock to prevent opening the cooker; do not attempt to force the lid open while the cooker is pressurized
Automatic Pressure Control: Maintains working pressure levels; suspends heating if pressure exceeds pressure level limits
Overheat (Burn) Protection: The cooker will reduce risk of burning food by lowering the heat output
Electrical Fuse: Cuts off power if the electrical current exceeds safety limits
Thermal Fuse: Cuts off power if the internal temperature exceeds safety limits
Leaky Lid Detection: If there is steam leakage from the lid (such as, sealing ring not installed, or steam release handle being in "Venting" and not "Sealing" position) the cooker will not pressurize. Loss of steam may cause food to burn. The cooker monitors the pre-heating time and lowers heat output if working pressure is not reached within 40 minutes
Click here to learn more!